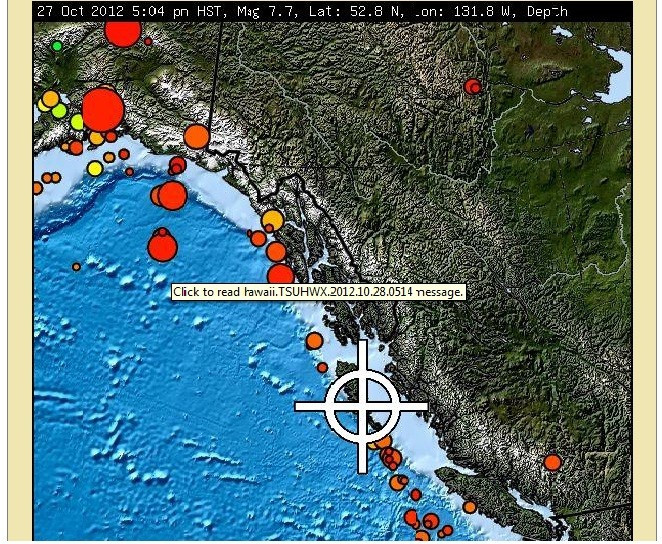 A tsunami has hit Hawaii, forcing nearly 100,000 people to move to higher ground, hours after a 7.7 magnitude earthquake struck the west coast of Canada.
The waves were not as high as forecasters had predicted. The first was three feet high, rather than the expected six-foot waves.
Though the first waves are usually the tallest, higher waves may still be on their way. Forecasters expect the biggest waves to strike Hilo, Hanalei, Kahului, and Haleiwa.
Waves three feet above sea level are generally considered dangerous. "The tsunami arrived about when we expected it should," said geophysicist Gerard Fryer.
"I was expecting it to be a little bigger."
No major damage has been reported so far.
Tsunami warnings were already in place ahead of the waves. The mayor of Honolulu, Peter Carlisle, said all police and emergency personnel were evacuated from flood zones soon after the first waves hit the area. He warned citizens against ignoring evacuation procedures.
Carlisle urged motorists to think about leaving their vehicles and proceeding on foot.
"If you are stuck in traffic, you might consider getting out of your car and consider walking to higher ground. You will have to assess your own situation, depending on where you are right now. Right now it is critical."
The Governor of Hawaii, Neil Abercrombie, said, "I want to make sure everybody understands how serious this is. We're getting reports of people trying to drive to shore areas, endangering other people trying [leaving] shore areas. I want to make crystal clear to everybody to have all the authorities on all of the islands to take appropriate actions or control whatever needs to be done for civil defence purposes. We have full mobilisation of our civil defence organisations in advance of the possible consequences of these waves coming."