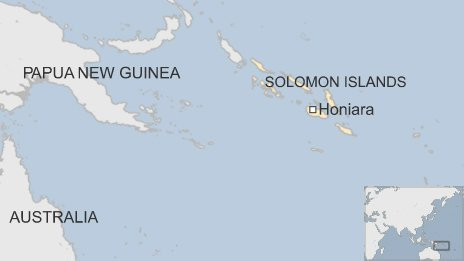 A tsunami warning has been issued after a magnitude 7.8 earthquake struck near the Solomon Islands in the Pacific Ocean.
The undersea quake was registered at a depth of 29km (18 miles), 100km (60 miles) south-east of Kira Kira.
The Pacific Tsunami Warning Centre (PTWC) issued the alert for Vanuatu, Papua New Guinea and the Solomon Islands.
The PTWC said: "An earthquake of this size has the potential to generate a destructive tsunami that can strike coastlines in the region ... within minutes to hours."
The magnitude of the quake was first thought to be 8.3 but was later downgraded.
The US Geological Survey says the area "is one of the most seismically active areas of the world due to high rates of convergence between the Australia and Pacific plates".
The Solomon islands suffered severe flash floods just over a week ago in which at least 16 people died and thousands were forced to abandon their homes.