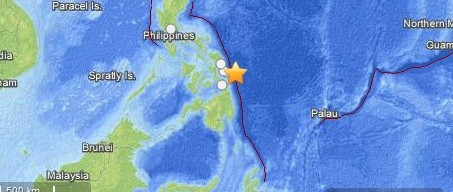 (Update: The tsunami warnings have since been lifted)
A tsunami warning has been put in place across large swathes of the Pacific Ocean after a 7.6 magnitude earthquake struck off the Philippines.
Warnings have been put in place for Indonesia, Philippines and Palau, according to the Pacific Tsunami Warning Centre (PTWC) although it is not known if a tsumani has been generated.
An initial warning for Japan, Taiwan, Papua New Guinea, Guam, the Northern Mariana Islands and Yap has since been lifted. The US Geological Survey (USGS) revised the magnitude down from its first reading of 7.9.
The PTWC warned: "An earthquake of this size has the potential to generate a destructive tsunami that can strike coastlines near the epicentre within minutes, and more distant coastlines within hours."
"Authorities should take appropriate action in response to this possibility.
"This centre will monitor sea level data from gauges near the earthquake to determine if a tsunami was generated and estimate the severity of the threat."
The Philippine Volcanology Centre advised residents living near the coast to move to higher ground.
The (USGS) said the quake occured 58 miles (93 km) east of the town of Sulanganr in the Philippines at a depth of about 20 miles (32 km).
Reuters reported that roads and bridges in the Philippines had been destroyed, according to congressman Ben Evardone.
In April, Indonesia issued a tsunami warning after an earthquake with a preliminary magnitude of 8.7 hit the seabed off the westernmost province of Aceh.
At least 230,000 people in 13 Indian Ocean countries were killed in a quake and tsunami off Indonesia in 2004.