TTIP: One million protestors sign petition against controversial EU and US trade deal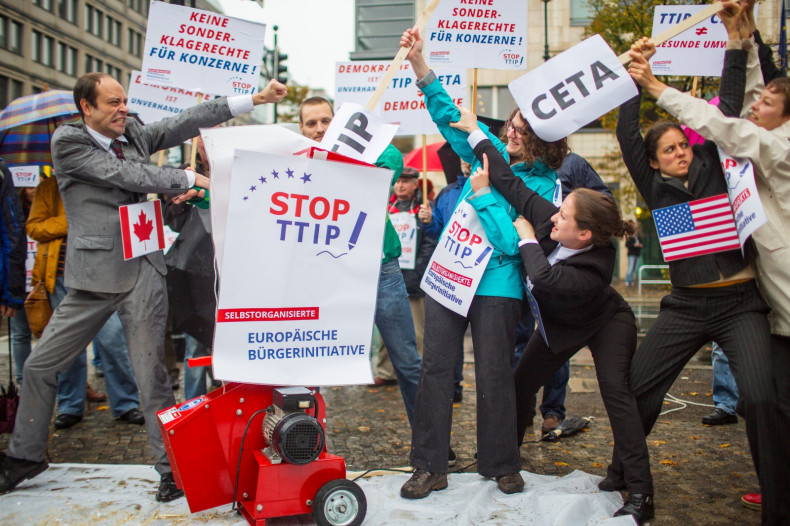 Campaigners claim to have gathered over one million signatures for a petition against the controversial EU-US trade deal known as the Transatlantic Trade and Investment Partnership (TTIP).
The World Development Movement (WDM) has raked in over a million online and "hard copy" signatures urging EU member states to stop the TTIP negotiations, as public concern grows over the protection of the NHS, employment rights, and a provision in the small print that would allow investors to sue governments.
It is hoped the petition will trigger a public hearing in the European Parliament, as part of a European Citizens' Initiative, However, the European Commission (EC) is required to give formal permission for this to go ahead.
So far, the EC has said that the petition is not sufficient to trigger a public hearing. Campaigners have launched a legal challenge to combat this decision.
Britain's Prime Minister David Cameron said that EU and US leaders had agreed that the TTIP is a "deal they all want," and he was "hopeful of progress".
He argued that the deal could boost the UK economy by up to £10bn (€12.5bn, $15.7bn) a year.
Campaigners warn that the Investor State Dispute Settlement (ISDS) clause could lead to governments being at the mercy of wealthy corporations, as it allows firms to sue authorities for compensation over policies that adversely affect them.
According to Friends of the Earth data, foreign investors have sought €30bn in compensation from 20 states. Campaigners fear this could rise further if the TTIP deal is finalised.
Critics of the deal also claim that it could result in the NHS being sold off to US companies, and being forced to appease major medical and pharmaceutical companies.
"TTIP will make it impossible for any future government to repeal the Health & Social Care Act and bring the NHS back into public hands," said John Hilary of War on Want.