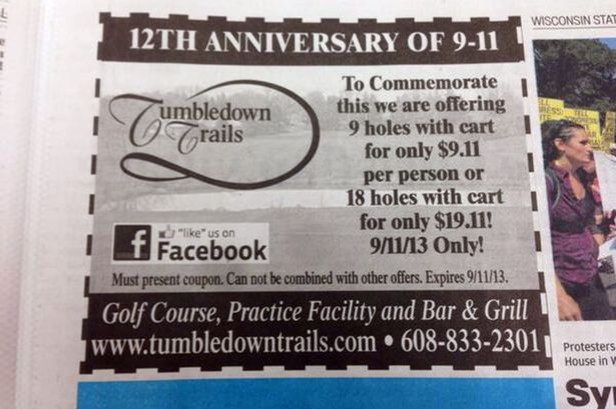 A golf course in the US apologised after its owner received death threats for offering nine holes of golf for $9.11 to mark the anniversary of the 2001 terrorist attacks.
Tumbledown Trails Golf Course received huge criticism after placing an advert in the Wisconsin State Journal, which offered golf fans a special offer which was valid for one day only, on the 12th anniversary of the 9/11 terrorist attacks.
The discount, which also included 18 holes for $19.11, gained huge backlash after a photo of the offer spread via social media. The owner of the club, Marc Watts, even considered closing the course down entirely after people threatened to kill him and burn down the family-owned course.
The club has now apologised for any offence caused and has said it will be temporaily closed on 11 September.
The club said: "We would first like to apologise to everyone that we have upset or feels we have disrespected in any way. By no means did we mean to do this.
"Our attempt to remember the tragedy of that day has been met with negativity and now even death threats. We ask that you please take a moment to reflect and remember those we lost that day, as we were trying to do."
Watts said that he had been running the offer for the past two years and had not received any negative comments about it until it went viral online.
He told the Milwaukee Journal Sentinel: "So many people have come in and said, 'What a unique way to put that out there so people don't forget.'"
Some commentators showed their anger to the advert via the club's Facebook page. "It's an abomination and a disgrace," one wrote.
"To make an opportunity out of a national tragedy is outrageous," added another.
However, another thought the club had nothing to apologise for by offering the commemorative discount.
The user said: "I'm not any more offended than I have been throughout the years every time I see a 9/11 limited edition coin on TV or exploding towers with an eagle crying on a T-shirt or the hundreds of others exploiting a tragedy for profit."