Tunisia hotel attack: British eyewitnesses tell of fellow tourists gunned down on beach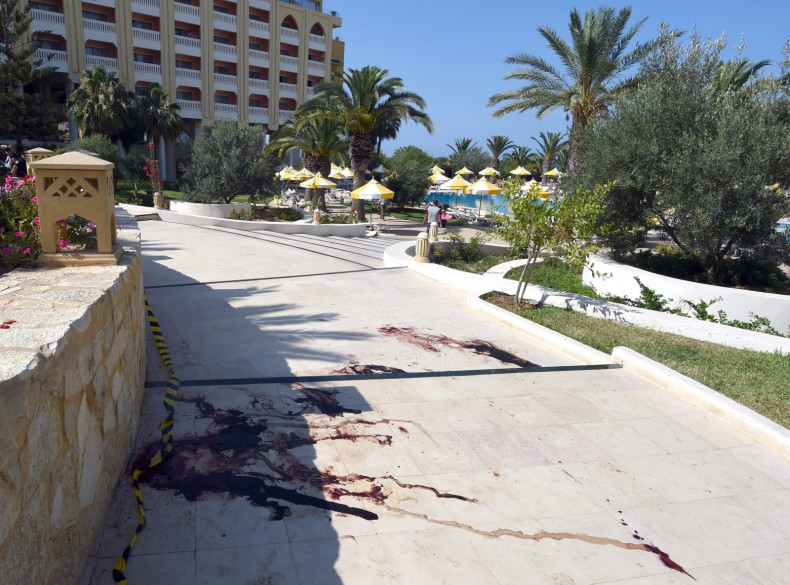 British tourists have spoken of the carnage on a Tunisian beach and ensuing chaos as terrorists, apparently Islamic extremists, launched an attack on a holiday resort popular among European holiday goers, killing 28 people.
Gary Pine, a project manager from Bristol, and his 22-year-old son Benjamin fled for their lives as two gunmen opened fire on the unsuspecting beach-goers.
Benjamin, who was furthest from the hotel, described to IBTimes UK the moment he witnessed one man get hit by the bullets careering past him.
He said: "I turned and heard gunshots and then saw a splattering of gunshots hit the ground. As soon as I turned around, I saw one older gentleman hit in the side of his head and he dropped straight down."
Benjamin admitted he was shocked by what he had seen. "You are mostly in shock because the last thing you expect when you come on holiday is to hear gunshots or see these kinds of things," he said.
Gary, speaking in the aftermath of the attack from the El-Mouradi Palm Marina Hotel where he was staying in Sousse with his wife and son, said it had caused utter chaos on the beach as tourists scrambled to safety.
"What seemed to be firecrackers began going off about 100 yards away," he told IBTimes UK, explaining that it was only when he heard bullets flying through the air around him that he realised what was happening. "There seemed to be bullets flying around here there and everywhere."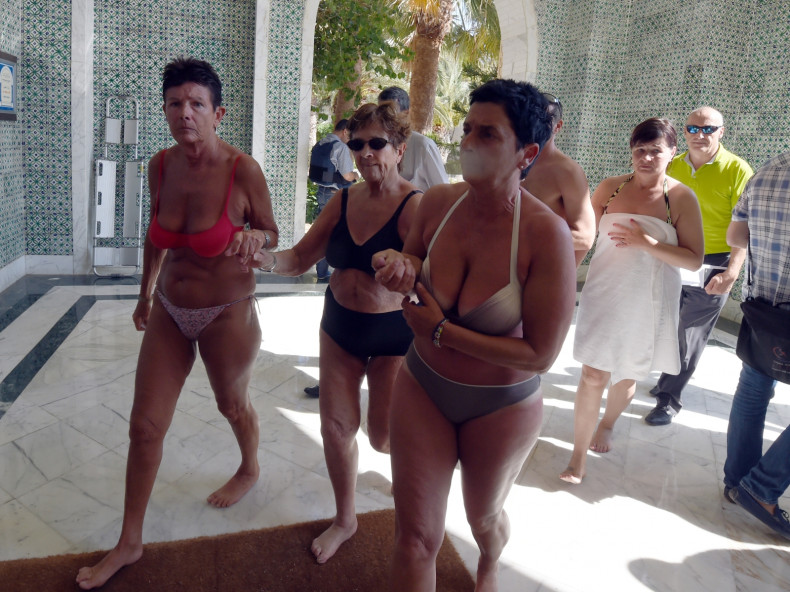 Following the shooting, Gary and his son said they heard explosions that were muffled by the hotel.
"In the five or 10 minutes it took us to get off the beach, and almost as you are looking around trying to gather your thoughts, as we were exiting the beach, probably 30, 40 yards away, there was an explosion from the hotel next to us," he said.
But the chaos was not over when the Pines left the beach and Gary said guests received conflicting information from hotel management about how to stay safe.
"We've had tears, we've had minor injuries of people who have fallen over steps trying to exit the beach quickly," he said, explaining the hotel had not been clear on the point of whether guests should stay in their rooms or not. "The hotel does not feel sufficiently equipped to give us any information."
Benjamin added: "Luckily we are flying home tomorrow but if we weren't, I would be getting an earlier flight."
British, German, Russian and Belgian nationals are believed to make up a majority of the 28 people who were killed in the attack on Sousse.
Tunisia is in the top 20 holiday hot spots for British travellers, with 424,000 tourists going there in 2014, according to the Foreign Office. The Association of British Travel Agents says around 20,000 visitors are currently in the country.