Tunisia: 45 killed as Islamists launch RPG assault from Libya on border town of Ben Guerdane
At least 45 militants, civilians and members of the security forces have been killed in an Islamist attack on the Tunisian town of Ben Guerdane, on the North African nation's frontier with restive Libya.
The Tunisian ministry of interior said in a statement that 28 militants, 10 members of the security forces and seven civilians were killed in the clashes. A 12-year-old girl was among the civilians killed in the attack, according to Reuters. Initial reports claimed the attackers used heavy weaponry in the dawn assault including rocket-propelled grenades.
Local media in Tunisia has reported that fighters crossed over the border from Libya to launch a dawn raid on a military barracks and a police station. Authorities instructed residents to remain in their homes after fighting erupted at around 4 am on Monday (7 March).
The death toll from the clashes has risen steadily throughout the day amid reports security forces had surrounded one house inhabited by a wanted terrorist, killing two militants inside. Tunisian military reinforcements, backed by helicopters have been deployed to Ben Guerdane.
British troops are set to be deployed to Tunisia to secure the country's 285mile-long border with Libya, which has become a refuge for the Islamic State (Isis/Daesh).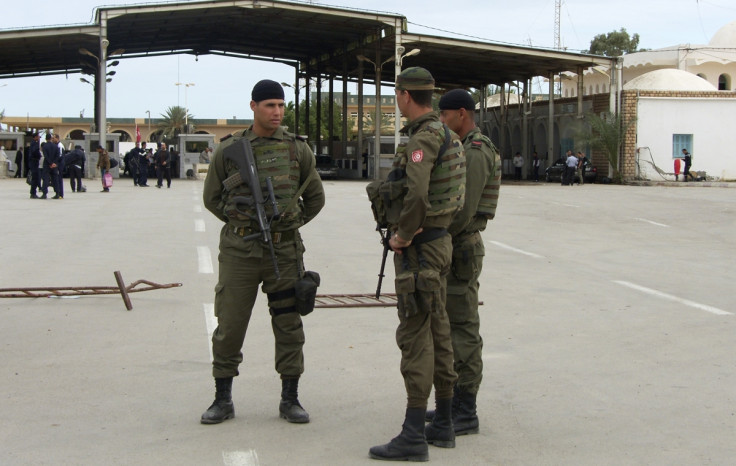 Libyan trained Tunisian militants have become Tunis' primary security concern. One week ago five were killed in Ben Guerdane after security forces discovered a weapons cache in the town.
Islamists trained at IS and al-Qaeda camps in Libya were able to launch a series of attacks in Tunisia last year including on the Bardo Museum and the Sousse beach massacre in which 30 Britons were killed.
At the end of February, Islamic State militants captured by militias aligned with Libya's western government with Tripoli said they were planning a large scale assault on Ben Guerdane, Tunisia Live reported. The town is a hub for illegal cross-border trade and the trafficking of militants.
On 19 February US air strikes on Qasr Talil near the western Libyan town of Sabratha killed at least 30 Daesh fighters. According to reports the majority of the militants were Tunisian. The bombing targeted Tunisian national Noureddine Chouchane, who helped organise the Sousse beach massacre and the Bardo Museum attack. Two Serbian diplomats, also held hostage, were believed to have been killed in the same air strikes.
© Copyright IBTimes 2023. All rights reserved.