Protests erupted in southeastern Turkey after the government sacked about two dozen elected mayors from Kurdish-run municipalities on Sunday (11 September) and replaced them with new ones. The mayors were reportedly removed over suspected links to militants, but they have accused the government of an "administrative coup" against them.
"No democratic state can or will allow mayors and MPs to use municipality resources to finance terrorist organisations," Justice Minister Bekir Bozdag said on Twitter following the sacking. "Being an elected official isn't a licence to commit crimes," he added.
The 24 municipalities – located near the Turkish border with Syria and Iraq – were run by the pro-Kurdish opposition Peoples' Democratic Party. The third largest party in the Turkish parliament has denied links to any Kurdish militants.
"This illegal and arbitrary stance will result in the deepening of current problems in Kurdish cities, and the Kurdish issue becoming unresolvable," the party said in a statement, clarifying that it is not promoting the militants, but wants to negotiate an end to the insurgency, Reuters reported.
The government also removed mayors of four other municipalities, three of whom belonged to the ruling AK Party and one to the nationalist MHP opposition, over alleged ties with the so-called Gulen Terror Organisation. Turkey President Tayyip Erdogan has accused US-based Muslim cleric Fethullah Gulen of orchestrating the July military coup against him, but the cleric has denied any involvement in the incident.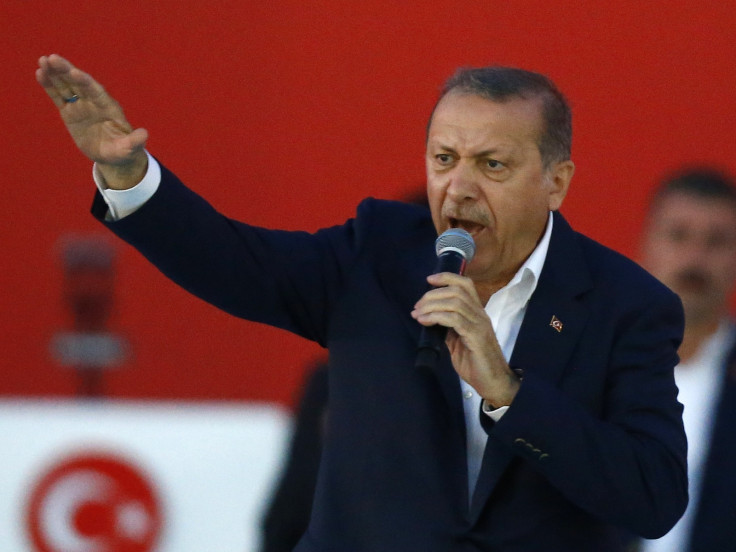 Government forces have launched a massive crackdown on Gulen's supporters in Turkey. The president has also pledged to crush militants involved in the alleged Kurdistan Workers Party insurgency – to carve out an autonomous Kurdish state.
Meanwhile, the interior ministry said in a statement that the 28 sacked mayors – 12 of whom have been arrested – were facing a probe over suspected "assistance and support" to the Kurdish militants and to Gulen's organisation.
On Sunday, police fired tear gas and used water cannons on protesters outside local government buildings in Suruc on the Syrian border, while the new mayors took over office, security officials said.
In Diyarbarkir and in Hakkari province near the Iraqi border, police reportedly entered municipality buildings and unfurled large red Turkish flags, replacing the white local government flags.