Turkish President Recep Tayyip Erdogan is considering reinstating the death penalty after the failed military coup attempt that rocked the country on Friday (15 July). The Turkish leader said that the government will consult the opposition before taking steps to re-introduce capital punishment.
"Our government will discuss [the death penalty] with the opposition. My brothers, we know and hear your demand both as the government and the state," Erdogan said while addressing a gathering from his residence late on Sunday (17 July), according to Turkey's Hurriyet Daily.
Supporters of Erdogan have lobbied for reinstating the death sentence which was abolished in 2004 after an army faction failed in its attempt to overthrow the government. "In democracies, decisions are made based on what the people say. I think our government will speak with the opposition and come to a decision. We cannot delay this anymore because in this country, those who launch a coup will have to pay the price for it," said Erdogan, who broke down during a funeral earlier in the day.
Ankara had abolished capital punishment as part its attempt to join the European Union, but if it is re-introduced it could further complicate the already delayed negotiations.
Meanwhile, Turkey has detained as many as 6,000 people post the coup attempt including top military officials. The country's interior ministry said that 29 colonels and 40 generals were among those detained. With 149 police officers taken into custody in the Turkish capital, 49 of them were police chiefs.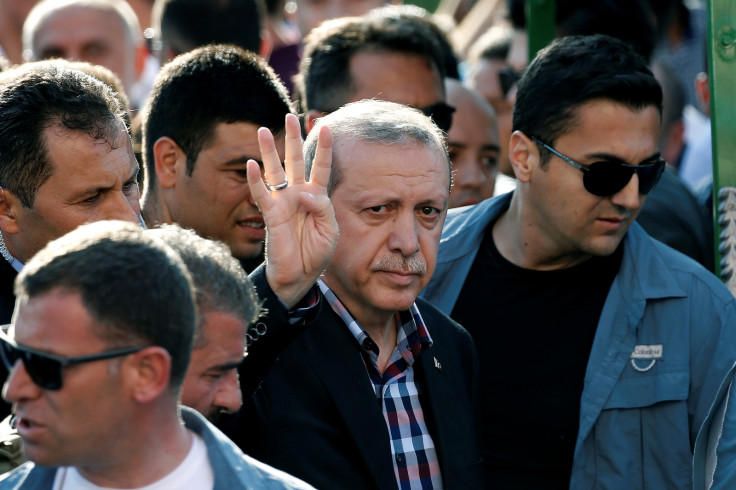 Further, reports claimed that Erdogan's plane was harassed by two F-16 fighter jets just as the army faction initiated its attempt to overthrow his government. The pilots of the fighter aircraft were said to be flying close to Erdogan's aircraft, while he was returning to Istanbul from a vacation.
"At least two F-16s harassed Erdoğan's plane while it was in the air and en route to Istanbul. They locked their radars on his plane and on two other F-16s protecting him," Reuters quoted a former military officer as saying. There were warning shots fired at Istanbul's second largest airport, however, there has been no official confirmation on whether Erdogan's flight was in trouble.