A crackdown on opposition to the government of President Recep Tayyip Erdogan has continued with the sacking of over 15,000 people from the education ministry. Around 100 intelligence staff were also sacked, as well as more military staff, bringing the total to be forced from their job since the failed coup on 15-16 July to around 50,000.
The Erdogan government blames US-based cleric Fethullah Gulen for the coup, which left 232 people dead, and is seeking to have Gulen extradited. Pro-Gulen media outlets have been closed down but he denies any involvement, condemning the coup and suggesting Erdogan was behind the events, in order to justify his increasing authoritarianism.
The BBC is reporting that 1,500 university deans had to resign and 21,000 teachers had their licenses revoked. As well as the sackings, thousands of people have been detained, mostly from the military and judiciary sectors.
Erdogan has signalled that he would sanction the return of the death penalty for those found guilty of plotting the coup, despite warnings this would hamper Turkey's chances of ever joining the European Union.
Partly in response to the crackdown in Turkey, Wikileaks has published around 300,000 emails with attachments from Erdogan's ruling Justice & Development Party (AKP). Wikileaks claim the emails – hacked from the AKP internal server – had nothing to do with opposition to Erdogan.
"We have verified the material and the source, who is not connected, in any way, to the elements behind the attempted coup, or to a rival political party or state," said Wikileaks in a statement, as quoted by Russia Today. The group says it has come under sustained attack since announcing its intentions to publish the files, but that it is "winning" the battle and that more documents will be posted shortly.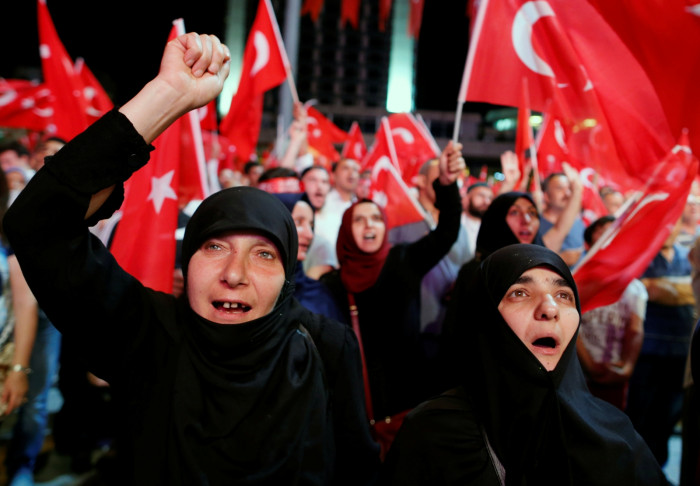 On Monday Wikileaks appealed to people in Turkey to help bypass official censorship to enable the outside world find out what was really happening in the country. "We ask that Turks are ready with censorship bypassing systems such as TorBrowser and uTorrent," said Wikileaks in a statement. "And that everyone else is ready to help them bypass censorship and push our links through the censorship to come."