Turkey Earthquake: At Least 7 Dead, Hundreds Still Trapped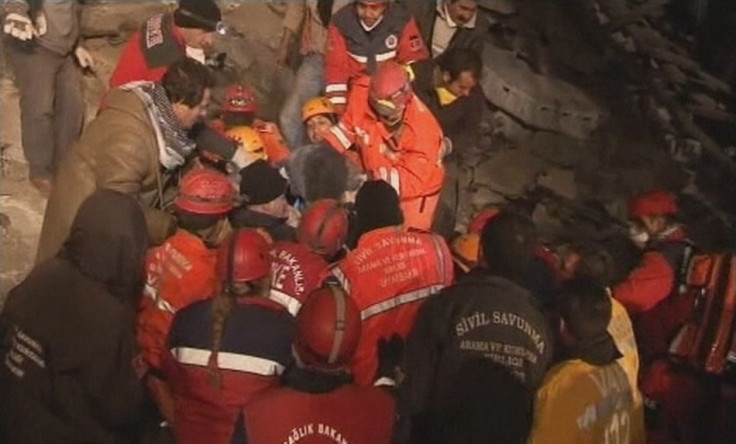 At least seven people are dead and dozens are still trapped in collapsed buildings following a magnitude 5.6 earthquake that struck eastern Turkey Wednesday, less than three weeks after a 7.2 magnitude quake killed 600 people in the same area.
Rescue teams searched for survivors in Van, where an estimated 25 more buildings have collapsed, including several hotels, and up to 22 planes were carrying rescue and medical teams to the region, Turkey's Disaster and Emergency Administration said.
Rescue efforts continued throughout the night and 23 people were evacuated from the ruins of two hotels, the agency said.
According to the television channel TRT, at least another 100 people are still trapped under collapsed buildings.
NTV, another television channel, said collapsed buildings included the six-storey Bayram Hotel in the Van city centre, which was mostly occupied by journalists and teams from the Turkish Red Crescent.
Local MP Nazmi Gur also said many rescue workers still in the area to help clean up after the previous earthquake are likely to be among the victims or the people still trapped in collapsed buildings.
"I'm in front of one of the buildings which collapsed. It was a hotel, and unfortunately around 40 people are in there," he said.
"Most of them are journalists and rescue teams. And now rescue teams are working to rescue people."
A 16-month-old baby was rescued and flown to a hospital and a Japanese woman was rescued from the ruins of the Bayram Hotel almost six hours after the quake, the state-run Anatolian News Agency reported.
The epicentre of the quake was in the Edremit district, 15 kilometres from Van.
The Kandilli Observatory measured the quake as 5.6, but the U.S. Geological Survey said it was magnitude 5.7.
"It would be premature to say if it is an aftershock or an earthquake," Kandilli Observatory director Professor Mustafa Erdik told NTV.
© Copyright IBTimes 2023. All rights reserved.