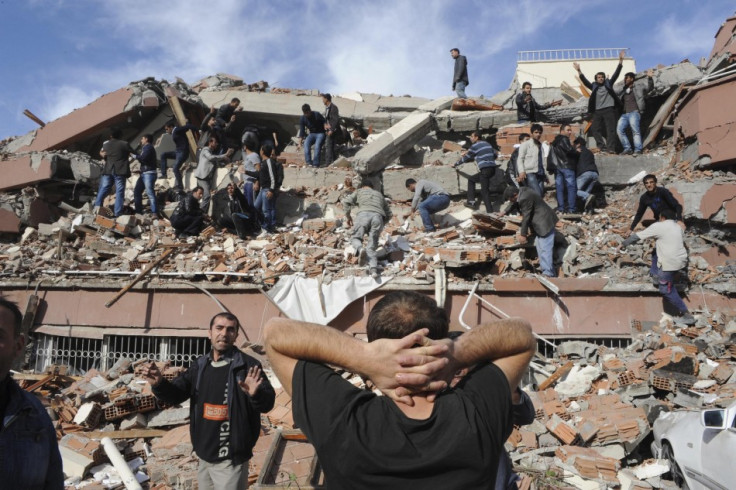 More than 200 have been killed and 1,000 injured in eastern Turkey as a 7.2-magnitude earthquake hit the area on Sunday.
Rescue teams are now desperately searching for survivors who are still trapped under the debris of the collapsed buildings in the Van region, many of them in the town of Ercris.
Interior Minister Idris Sahin said 117 have been killed in Ercris, with another 100 hundred killed in Van with a further 740 people were injured. Hundreds of people are still reported missing.
Rescue teams have been digging through the night to search for survivors, with residents setting up makeshift field hospitals, kitchens and tents to help the thousands who have been left homeless after the disaster hit.
Officials said hundreds of mud-brick homes in villages and concrete buildings in cities fell in the earthquake that hit the area of van, near the border with Iran, on Sunday.
Prime Minister Recep Tayyip Erdogan has been visiting the area and warned that the death toll could rise further as victims are uncovered in the wreckage of the buildings, with the area of Ercis being the worst-hit area.
"Because the buildings are made of adobe, they are more vulnerable to quakes. I must say that almost all buildings in such villages are destroyed," Erdogan said in a news conference.
"We estimate around 1,000 buildings are damaged and our estimate is for hundreds of lives lost. It could be 500 or 1,000," said Mustafa Erdik, the general manager of the Kandilli Observatory.
The earthquake struck at 13:41 (10:41 GMT) at a depth of 20km (12 miles), with its epicentre 16km northeast of Van in eastern Turkey, according to the U.S. Geological Survey.
This was followed by a series of powerful aftershocks which were centred north of Van, including two of magnitude 5.6 soon after the quake and one of 6.0 late on Sunday.
In Van city, which has a population of around 500,000, residents fled into the streets in panic after the first shock.
"There are so many dead. Several buildings have collapsed, there is too much destruction, we need urgent aid. We need medics," Ercis' mayor, Zulfikar Arapoglu, said on NTV Television.
Many people have spent the night outdoors around lit campfires, while the Red Crescent set up tents in a nearby stadium.
Turkey is vulnerable to earthquakes because it lies in one of the world's most active seismic zones and is crossed by numerous fault lines.
In 1999, two earthquakes with a magnitude of more than 7 struck northwest Turkey, killing around 18,000 people.