A pro-democracy rally, organised by Turkey's opposition party Cumhuriyet Halk Partisi (CHP) in Istanbul's central Taksim Square, saw tens of thousands of people participating in it on Sunday (24 July). The gathering, backed by President Recep Tayyip Erdogan's party - Adalet ve Kalkınma Partisi (AK), was held in support of democracy following the failed military coup in the country last week.
Defying political differences, the rally witnessed opposition parties standing together against the coup. Istanbul's mayor, Kadir Topbaş and other AK party leaders also joined the protest. Demonstrators were holding banners marked with slogans like — "We defend the republic" and "No to the coup, no to dictatorship".
CHP leader Kemal Kilicdaroglu delivered a speech in the rally and said that amid the disorder, "the parliament stood proudly, Turkey stood proudly, MPs stood proudly, people in this square have stood proudly, and democracy won!"
"The state cannot be governed by grudge, anger and prejudice. Those responsible for the coup should be tried lawfully, with the understanding of abiding by the rule of law," Kilicdaroglu was quoted as saying by the BBC. He also added that how important were free press and freedom of assembly for the development of the country. He also pointed towards the dangers of dictatorship and authoritarianism.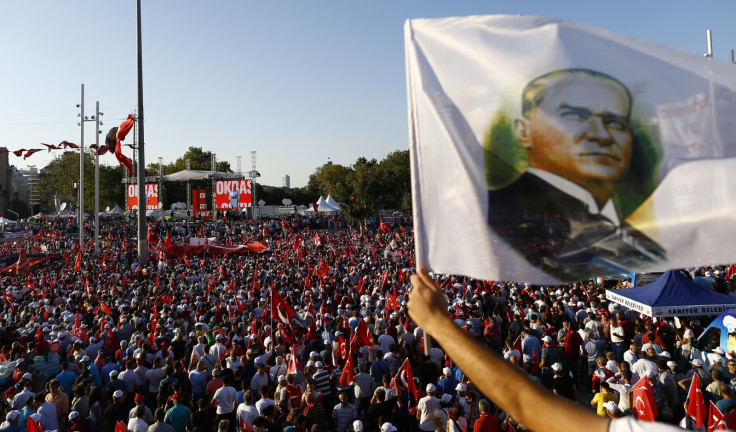 According to a Reuters report, in another demonstration of unity after the coup, the head of Turkey's air force issued a rare statement stressing "absolute obedience" to the chief of the military General Staff. President Erdogan has accused US-based Muslim cleric Fethullah Gulen, who has many followers in Turkey, of masterminding the abortive coup in which at least 246 people were killed and more than 2,000 injured.
The coup that began on the night of 15-16 July by a group of Turkish defence forces resulted into the arrest of thousands of service personnel and dismissing or suspending of a number of judges, public officials, school teachers and university heads. However, later it was reported that around 1, 200 soldiers, who were detained following the putsch, were released as they were low-ranking soldiers.
A state Emergency was also declared in the country on Wednesday (20 July) as a precautionary measure enabling the president and cabinet to restrict or suspend rights and freedoms.