Turkey supports Islamist groups in Middle East, says German government leak
A leaked response shows German officials acknowledge Raccip Tayyip Erdogan's support for militants.
Turkey supports militant organisations and Islamist groups in the Middle East, German government officials have admitted. The claims follow a leaked confidential response from Germany's interior ministry to parliamentary questions from the left-wing party Die Linke.
It said that German officials had acknowledged Recep Tayyip Erdogan's support for militants fighting Bashar al-Assad in Syria and that the Turkish president has an "ideological affinity" with Egypt's Muslim Brotherhood.
"Especially since the year 2011, as a result of its incrementally Islamised internal and foreign policy, Turkey has become a central platform for action for Islamist groups in the Middle East," the German officials observed in their analysis, according to German state broadcaster ARD.
The leaked document concluded Erdogan supported Hamas, which is the elected governing party in the Gaza Strip, although Erdogan once told a US TV interview that he did not consider the group a terror organisation.
Erdogan has opposed the Muslim Brotherhood in the past, though he has since also criticised current Egyptian President Abdel-Fattah el-Sissi, who overthrew Morsi in a 2013 coup.
Relations between Turkey and Germany have been strained over visa liberalisation for Turkish citizens in the Schengen area and Ankara is facing considerable criticism for a clampdown on the judiciary, police and media after the failed coup in July.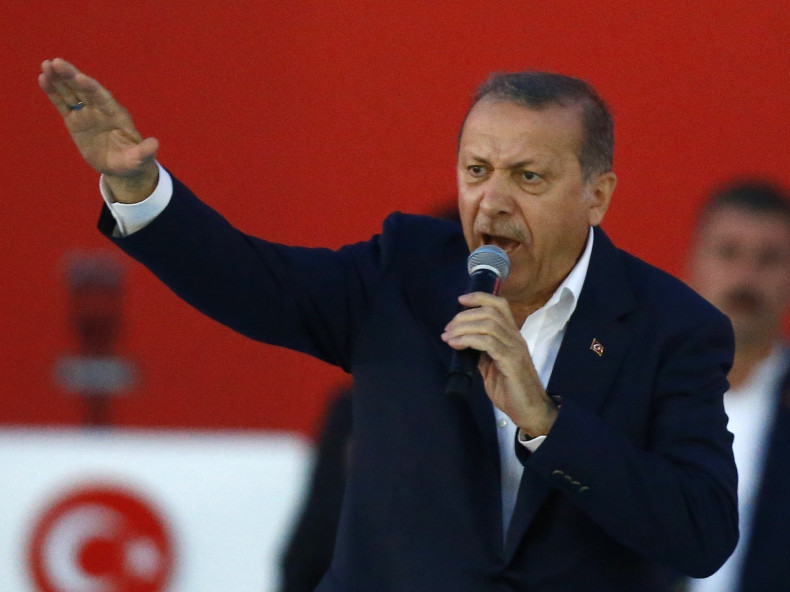 In 2015, the opposition newspaper Cumhuriyet reported that Turkish officials had shipped arms to Syrian rebels in 2014. Erdogan threatened the paper's editor Can Dundar would "pay a heavy price".
On Monday 15 August, Dundar stepped down. He was sentenced to prison for an article published in the paper which said he no longer had faith in Turkey's judiciary after Erdogan imposed a renewable three-month state of emergency.
"To trust such a judiciary would be like putting one's head under the guillotine. From now on, what we face would not be the court but the government," he added. "I've decided not to surrender to this judiciary at least until the state of emergency is lifted," Dundar wrote.