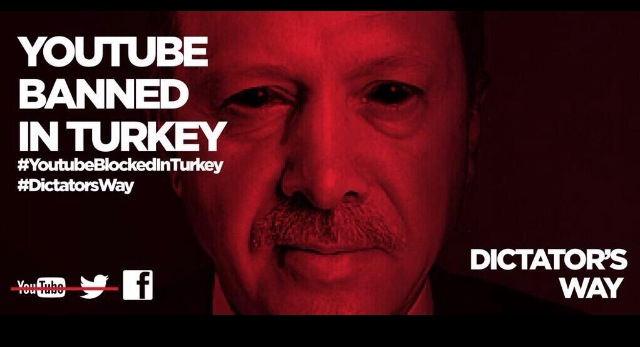 A recording of a high-level security meeting discussing a possible military operation in Syria, and uploaded by an anonymous YouTube account is cited as a possible reason for the YouTube ban in Turkey.
The recording is just the latest of a series of leaks involving high level figures in the moderate-Islamist government of premier Recep Tayyip Erdogan, who accused his political enemies of trying to undermine him ahead of 30 March elections.
#TurkeyBlockedYouTube began trending immediately across the country, with many sharing screenshots.
The authenticity of the recording could not be independently verified.
Turkey's foreign ministry said the leaked recording of top officials discussing Syria operation was "partially manipulated" and is a "wretched attack" on national security.
In the leaked video, Turkey's intelligence chief Hakan Fidan is discussing with Foreign Minister Ahmet Davutoglu, Deputy Chief of Staff Yasar Guler and other officials a possible operation in Syria to secure the tomb of Suleyman Shah, grandfather of the founder of the Ottoman empire.
Ankara regards the tomb as sovereign Turkish territory under a treaty signed with France in 1921, when Syria was under French rule.
Ankara warned that it would intervene should any attack on the tomb happen.
Clashes between militants of the al-Qaida offshoot Islamic State of Iraq and the Levant (ISIL) and rival rebel groups in the area, near the Turkish border, triggered a reaction by Turkish officials.
A voice presented as that of foreign ministry undersecretary Feridun Sinirlioglu is heard saying: "An operation against ISIL has international legitimacy. We will define it as al Qaeda. There are no issues on the al Qaeda framework. When it comes to the Suleyman Shah tomb, it's about the protection of national soil".
Fidan is heard replying: "Justification can be created. The matter is to create the will."
Turkey was reportedly in talks with YouTube and may lift the ban if the video sharing platform agreed to remove the content, according to Reuters.