With the Turkish general election looming, the international media has been quick to report on a disturbing trend towards nationalism in the country. The movement is spearheaded by the Nationalist Movement Party, or MHP, which has already been labelled a far-right extremist group by several scholars. Particularly troubling is the MHP's paramilitary youth wing, the so-called 'Grey Wolves.' Although the current leader Devlet Bahceli, has tried to reform the party, its violent ways have yet to be curbed.
The Grey Wolves don't just act in Turkey. They have tried to export their Pan-Turkish iedology and Neo-fascist propaganda to other countries like Kazakhstan and Azerbaijan, to reunite all the Turkic people, but have been banned. The reason for the ban is simple: the Grey Wolves have been responsible for a series of crimes, especially in the 1970s and 1980s. Members of the organisation have killed hundreds of people in Turkey, and their willingness to resort to violence has always been pretty obvious.
The attempted murder of Pope John Paul II in 1981 was carried out by a Grey Wolves member, Mehmet Ali Ağca, who in 1979 killed Abdi İpekçi, the editor of the Turkish newspaper Milliyet and a prominent advocate of reconciliation with Greece. In the 1990s the Grey Wolves killed two people who were opposing their ideas; one of them was of Kurdish descent.
In 2011 Kıvanç Ağaoglu, supporter of late Grey Wolves leader and contract killer Abdullah Çatlı, and defender of ultra-Nationalist ideas, killed Turkish soldier Sevag Balıkçı, who was of Armenian descent, on April 24, the remembrance day of the Armenian Genocide. Many Kurdish people have also fallen victim of Grey Wolves attacks, but they fought back; just a few months ago Fırat Yılmaz Çakıroğlu, the leader of the Grey Wolves branch at Ege University in İzmir, was killed by Kurdish Nationalists.
Many other examples of criminal acts between Grey Wolves and their opponents could be named here – from bombings to lynchings – and yet, astonishingly, people still underestimate this group.
Right now, most Grey Wolves members outside Turkey can be found in Germany, a key population centre for the Turkish diaspora. It's impossible to give an exact figure on the number of official members, but 10,000 seems to be a quite realistic figure. During house searches German police have often found illegal guns and ammunition and Secret Service officials speak of a distinctive culture of violence, especially among younger members. Between 2011 and 2014 the German Federal Government counted 15 attacks against Kurds, Kurdish facilities and police officers.
Germany is very interesting for the MHP due to the large numbers of people of Turkish descent and well-known integration problems, especially among first-generation immigrants from Turkey, in recent decades. These immigrants are allowed to vote in the upcoming Turkish election, and more than a third of them have opted to do so, about half a million people.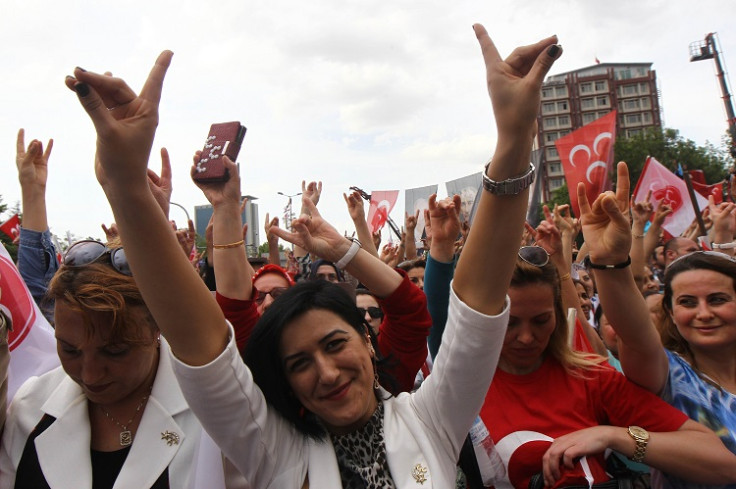 That's a considerable amount of votes, and election forecasts predict about 15% for the MHP, especially due to expatriates who typically tend to vote more radically than natives in Turkey. Second- and third-generation immigrants are often searching for an identity, and the MHP offers a strong pro-Turkish vision. This story is similar to many other promises of salvation: join us, get a perspective and turn from loser to winner.
Under these conditions, it seems odd that Government officials are still very reserved regarding the Grey Wolves and their message of violence and fear. Their history speaks a clear language and their nationalist ideas also clearly oppose a free society. On the other hand they have been successful in uniting conservative and even ultra-nationalist Turks in Germany and that may be interesting for selective political cooperation.
Integration barriers
Parties such as the CDU, the political home of Chancellor Angela Merkel, are trying to integrate more immigrants into their respective folds. But this isn't easy; differences between Turkish nationalists and minorities like Kurds, Alevis and Armenians won't automatically end just because every opponent now has the same CDU membership card. And there are still some deep political wounds, as was demonstrated when German politicians like President Joachim Gauck called the Turkish massacre of Armenians 100 years ago a genocide.

'Hopes are high for the HDP, with many Turkish liberals and socialists joining the party and reports of tens of thousands of Kurds switching allegiances from the AKP to the HDP in the Kurdish heartlands, and massive political rallies attracting hordes of people in Istanbul, Izmir and other Turkish cities.'
Read Mark Campbell's analysis of the Kurdish HDP party's chances here.
The Turkish government responded immediately with the warning that they won't forget, or forgive. For the MHP, of course, it was all grist to the mill, a PR disaster which will only make it harder to integrate ultra-conservatives into Germany's mainstream political fabric.
It might be that the upcoming election will strengthen the MHP and that definitely won't lead to a more peaceful Turkish society. This means that, from time to time, there is a clear need to act. German politicians like Gauck and Lammert made the perfect statement on the Armenian Genocide, opposing Turkish nationalism and bigotry.
What's still missing, though, is a tighter security approach, especially in Germany, where politicians shouldn't be self-restrained or even ignorant regarding the Grey Wolves. Perhaps the best recommendation in this case is to follow the words of Berlin-based historian Heinrich August Winkler, who said that it is a "confession of intellectual failure" when western Democracies only start thinking about their basic principles when there are external threats.
In this case, the threat isn´t even external any more.
Dr Stephan Humer is chair of Germany's Netzwerk Terrorismusforschung (NTF), a research body dedicated to identifying and raising awareness in Germany and across Europe. He is also Senior Fellow @ Berlin University of the Arts´ Digital Class and Adjunct Professor at the Berlin School of Economics and Law.