Turkish leaders have pledged to respond to the Ankara bomb blast, which killed 28 people and left 61 others injured. Both President Recep Tayyip Erdogan and Prime Minister Ahmet Davutoglu have cancelled their foreign visits to deal with the security situation.
The car bomb attack, which rocked the heart of the Turkish capital on 17 February, targeted military personnel in a bus. The blast site was a few hundred metres from the military headquarters, prime minister's office and parliament.
"Our determination to retaliate to these attacks that target our unity and our future, in Turkey and abroad, are increasing with such actions. Turkey's losses in its struggle against terrorism are challenging its patience," said Erdogan, who called off his trip to Azerbaijan. The government has not blamed any group for the explosion. No one has claimed responsibility either.
Turkey is growingly exasperated by the advance of Kurdish rebels, who Ankara considers terrorists, by capitalising on the conflict in neighbouring Syria. There is speculation that the attack may have been carried out by either the Kurdish extremists or the Islamic State (Isis).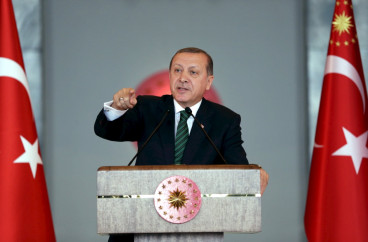 The Turkish premier suspended his scheduled visit to Brussels to attend a high-level security summit. Following the meeting in the presidential palace, Davutoglu said: "Our nation which has long been the targeted by terrorism but weathered several storms by further closing ranks will overcome these hard circumstances in dignity and solidarity against these attacks."
Promising that the entire nation of "all 78 million citizens" stands united in the wake of terror attacks, the Turkish prime minister said: "Those who mounted and instigated the atrocious attack that targeted our country, great nation and democracy will never attain their aims." All the leaders of opposition have issued strong condemnation against the onslaught.
Within hours of the Ankara bombing, an explosion rocked a Turkish cultural centre in the Swedish capital Stockholm, 2,000 miles away. No arrests have been made so far.