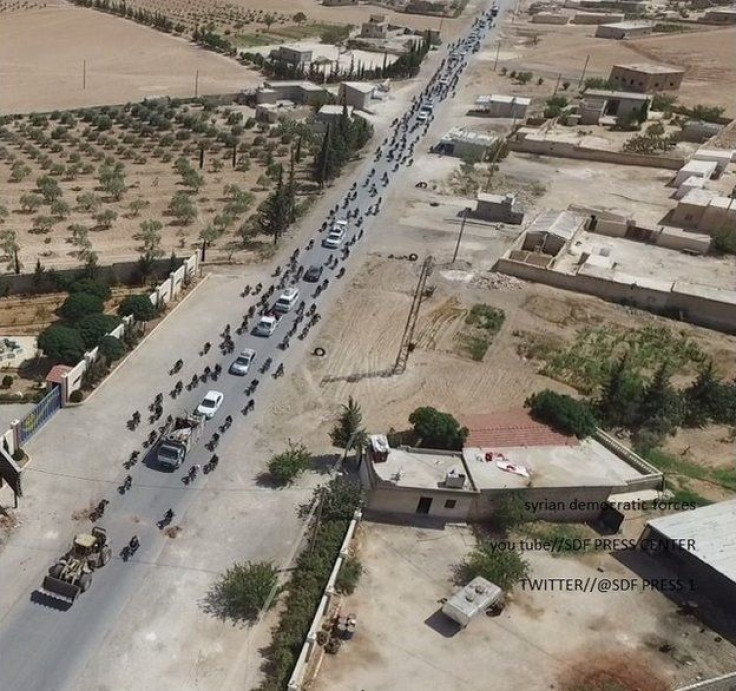 Aerial photos have been released showing Islamic State (Isis) militants using civilians as human shields as they flee the war-torn Syrian town of Manbij. The US-backed Syrian Democratic Forces (SDF), seized control of Manbij which lies on a major supply route between the Turkish border and IS's de facto capital of Raqqa.
The images, taken on 12 August by the SDF, show more than 100 jihadists escaping the city in a convoy of cars and trucks carrying civilian hostages.
Women and children were also forced to surround the vehicles. It was earlier reported that while the convoy was being tracked by the coalition forces, US advisers to the SDF agreed not to target the fleeing militants with air strikes as they left the city.
US military spokesman Chris Garver said: "Civilians were observed in the convoy intermingled with fighters in every vehicle. We had to treat them all as noncombatants. We didn't shoot, we kept watching.
"We have repeatedly mentioned the care that our partnered forces were taking to avoid civilian casualties and collateral damage, so the partnered forced on the ground did not engage the convoy."
He added: "They kept throwing civilians to basically walk into the line of fire, trying to get them shot, to use that potentially as propaganda."
According to BBC News some of the IS (Daesh) fighters were headed towards the Turkish border but many others remain in Syria.
Armed Forces Minister Mike Penning welcomed the recapture of Manbij. Mr Penning told Sky News: "Manbij's liberation is a significant development in the fight against Daesh in Syria. The RAF supported the liberation with airstrikes over recent weeks, alongside our coalition partners. We thank all our armed forces for their ongoing commitment and bravery in this vitally important fight."
Their escape comes two months after IS fighters attempted to flee Fallujah in Iraq in a large convoy in June. 175 militants were killed during the bombing raid by Iraqi and coalition warplanes.