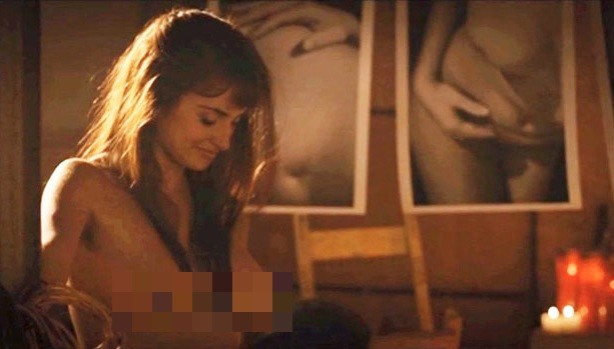 Hollywood actress Penelope Cruz had stripped to her birthday suit for a naked sex scene in her new film Twice Born.
The 38-year-old Spanish beauty got into bed for a romp with Alpha Dog star Emile Hirsch for the movie adaptation of Margaret Mazzantini's bestseller.
The Italian movie tells the story of a single mother, played by Cruz, who takes her son to Sarajevo, where his father died in the Bosnian conflict 16 years earlier.
In the promo shots, the Vanilla Sky star makes love to her former lover, Diego, played by Hirsh, who stayed behind while she fled the city with the baby.
Fans are treated to plenty of flesh as Cruz's character Gemma relives her past with her ex - resulting in a series of raunchy sex scenes.
The film deals with the heartbreaking story of a woman who is forced to turn to a surrogate after finding out she is unable to have children.
Another scene sees Cruz try to breastfeed her adopted baby son.
Cruz, who is pregnant with her second child with husband Javier Bardem, previously admitted that she filming the scene was emotional.
"Some of these babies were only a week old," she told the Guardian. "And so they were smelling me and that made them want to eat. But I was playing a woman who couldn't feed because she hadn't given birth.
"That created a very strange but alive dynamic between me and those babies. You cannot learn something like that. And this film is full of moments that could not be planned."
Twice Born is awaiting a UK and US release date.