A US-based journalist for The Independent, who was suspended from Twitter for posting the email address of an NBC employee, has had his account reinstated.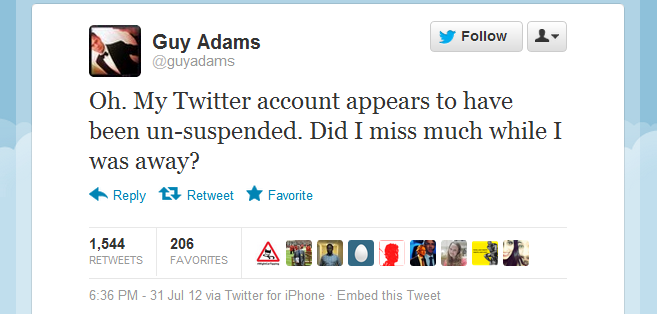 The micro-blogging site responded to a tweet that contained NBC's Olympics President Gary Zenkel's email address by suspending Adams' account following a complaint by the US TV network.
Twitter is currently working as the Olympic partner of NBC and Alex Macgillivray, general counsel for Twitter, said that staff working with the TV station should not have suggested it file the complaint.
"The team working closely with NBC around our Olympics partnership did proactively identify a Tweet that was in violation of the Twitter Rules and encouraged them to file a support ticket with our Trust and Safety team to report the violation," Macgillivray said.
"Our Trust and Safety team did not know that part of the story and acted on the report as they would any other. As I stated earlier, we do not proactively report or remove content on behalf of other users no matter who they are. This behaviour is not acceptable and undermines the trust our users have in us."
In a statement, NBC said it "didn't initially understand the repercussions of our complaint, but now that we do, we have rescinded it." NBC has exclusive rights to the Games in the US and chose to delay the transmission of the opening ceremony until American prime time.
Adams called the network "utter, utter b*stards" on Twitter and sent the tweet: "The man responsible for NBC pretending the Olympics haven't started yet is Gary Zenkel. Tell him what u think. Email: Gary.zenkel@nbcuni.com."
Adams first tweet when his account was turned back on read: "Oh. My Twitter account appears to have been un-suspended. Did I miss much while I was away?"
At the time the account was suspended Kevin Rawlinson, another journalist at The Independent, said Adams had been suspended because of his criticism of NBC.
"My colleague @guyadams' Twitter account was suspended after @NBC complained about his tweets criticising the network's #Olympics coverage," Rawlinson wrote.
However, Archie Bland, deputy editor of The Independent, quickly admitted that Adams was suspended because he posted Zenkel's email address.
"For clarity's sake, [the suspension] came after he mentioned NBC bod's email address," Bland wrote on Twitter.