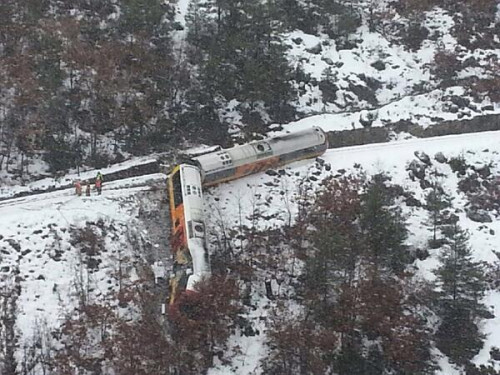 Two people have been killed after an enormous boulder split from a rock face and crashed into a passenger train travelling through the south of France.
The train, carrying 34 passengers including tourists, was travelling from the coastal city of Nice to the town of Digne-les-Bains on Saturday when it was hit by the boulder near Annot, in the French Alps. It was left dangling from the tracks, with the side of one carriage caved in from the boulder. Nine other people were injured.
Annot's mayor, Jean Ballester, said the giant boulder fell from the mountain with extraordinary force.
He told BFM television: "A rock the size of an automobile came off the mountainside and slammed into the first car of the train. There are unfortunately two dead."
A red alert, meaning "several victims", was issued and emergency services rushed to the scene but had problems reaching the site due to heavy snow and its isolated location. Two rescue helicopters were dispatched to the remote area, he said.
A total of 110 firefighters and 32 vehicles were deployed, as well as two helicopters.
One of the injured was in a critical condition and eight others, including the driver, had lighter injuries.
The force of the boulder caved in the side of the train, which takes a leisurely three hours to travel about 150 kilometers (93 miles) from Nice to Dignes-les-Bains.
The train was still dangling dramatically from the tracks hours after the accident, the crushed front car nose-down in the snowy woods.
The train travels along the mountains on track that regularly receives snow and rock falls, but regional transport official Jean-Yves Petit said even in winter it is considered safe. "The track isn't unusually dangerous," Petit told BFM.
The uninjured among the approximately 30 passengers were evacuated to Annot, a little more than half-way along the train route, Ballester said.