The result of the EU referendum will "hang over the world economic outlook" until at least 2018, Philip Hammond said on the sidelines of the G20 finance ministers' meeting in Chengdu, China, on Sunday (24 July).
While the chancellor conceded that a two-year Brexit "shadow" looms, he said it is "just one of many sources of uncertainty that the world's economic governance mechanisms have to deal with."
Speaking to Sky News, Hammond said: "It [the EU referendum result] was a shock to the economic system. It was not something that markets or businesses were expecting.
"So obviously there was going to be a reaction, a response to that," he added. "And because there will now be a fairly lengthy negotiating period, there is going to be uncertainty about the outcome hanging over the world economic outlook for perhaps the next couple of years."
Data published on 22 July – nearly one month after the UK voted on its membership of the EU – showed the UK's business activity dwindled at its quickest pace since the last recession seven years ago.
While Hammond acknowledged there had been "global disappointment" at the decision to quit the EU, he added: "What we now need to do is get on with it in a way that minimises the economic impact on the UK economy in the short term and maximises the benefit in the long term."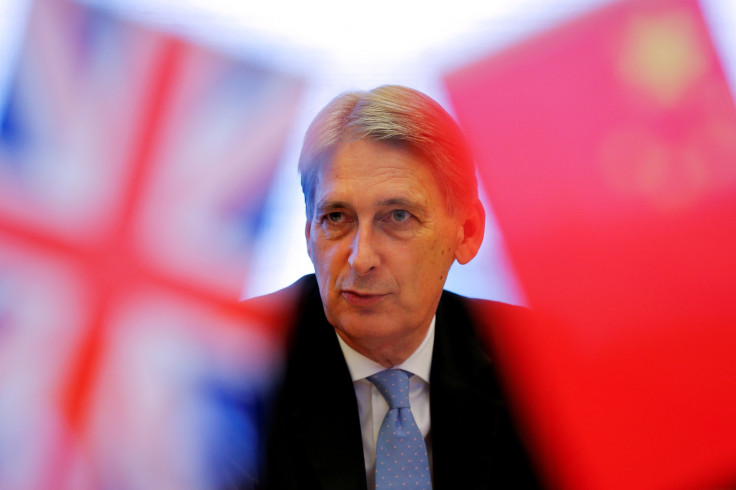 While post-referendum figures have been grim, the chancellor also discussed the opportunities facing the UK. China is reportedly keen to strike a free trade deal with the UK and Hammond said he is confident both countries can reach an agreement.
"The mood music that I have heard here is very much that this will mean more opportunity for countries like China that are outside the European Union to do business with Britain," said Hammond. "And as Britain leaves the European Union and is not bound by the rules of the European Union perhaps it will be easier to do deals with Britain in the future."
"We already have a strategic partnership with China. We have hugely increased our trade with China, investment both by British companies into China and by Chinese entities into the UK," added Hammond.
"That's about as far as we can go while we are members of the European Union. But once we are out of the European Union, then I have no doubt on both sides we will want to cement that relationship into a firmer structure in a bilateral way that's appropriate."