Typhoon Haima is reported to have slammed Hong Kong with destructive gale-force winds at 145km per hour at its centre and heavy rains, after killing at least 12 people and destroying vast swathe of farmland in the Philippines.
The typhoon has forced the authorities in Hong Kong to shut down all essential services in the global financial hub, including the stock market. Many flights were also cancelled or delayed at Hong Kong's international airport as the storm approached.
The city's flagship carrier Cathay Pacific reportedly said it was expecting "significant disruption" to its flights on Friday.
"According to the present forecast track, Haima will be closest to Hong Kong around noon, skirting about 100 km (62 miles) to the east of the territory," Reuters cited The Hong Kong Observatory as saying. "This means that winds with mean speeds of 63 kmh (40 mph) or more are expected from the northwest quarter."
On Friday morning, the observatory has raised its typhoon warning to a level 8 out of the highest rate of 10, alerting the public to stay away from the shores. It stated that the "seas are rough and there are swells."
The usually frenzied streets of Hong Kong were reported to be deserted on Friday as school, banks and other government services like the courts and the immigration department remained closed.
The city-state's meteorological officials said the typhoon had weakened as it approached Hong Kong but the intensity was still packing maximum sustained winds of up to 145 km per hour (90 mph).
Hong Kong, which has frequently been battered by typhoons, is reportedly witnessing a rare storm around this time of the year. It was hit by Typhoon Nida earlier in August, which resulted in a similar disruption to the normal functioning of the city.
Typhoon Haima wreaked havoc in the Philippines on Thursday (20 October) where it resulted in severe damage brought by ferocious gales and landslides. When it hit the country it was categorised as a super typhoon because of its intensity. It is reported to have brought winds similar to those of catastrophic Haiyan in 2013.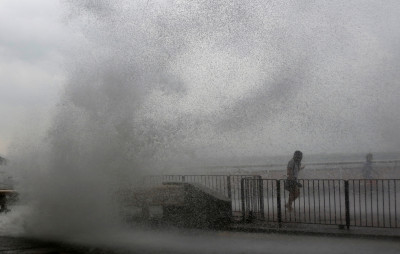 The Filipino authorities are reported to be calculating the extent of damage to buildings and corps. Thousands of hectares of farmland were washed out in the country's northern provinces, according to Reuters.
The damage caused by the super typhoon in Cagayan province alone resulted in up to 60,000 hectares of rice fields being flattened and flooded, provincial governor Manuel Mamba said.