Heartbreaking accounts of loss and survival have started to emerge as the Philippines comes to terms with the devastation caused by Typhoon Haiyan.
Fathers grieving for their sons, children looking for missing parents amid the debris, and ordinary Filipinos rendered suddenly homeless and desperately waiting for help or aid are among the tragic tales.
Haiyan, known locally as Yolanda, was believed to have claimed 10,000 lives but a final death toll has not been established.
"This is my son. He drowned," said Nestor Librando, a 31-year-old carpenter from Tacloban as he indicated a small body covered in a red blanket lying among others inside a chapel near the airport.
The two-year-old baby was yanked out of Librando's arms by floodwaters as the typhoon raged all around. His three-year-old son, with whom he was also sheltereing in a military compound in Tacloban, survived.
The capital of the central Philippine province of Leyte was one of the hardest hit. As it screamed through the city with 314km/h winds gusting up to 379 km/h, torrential rain flooded the streets. Librando held on to his two sons for hours against the storm.
But eventually, the constant, overpowering surge of water pouring through the town became too strong and Librando was swept out of the building. As he struggled to swim to safety, the torrent ripped his youngest son from his grasp.
"I found his body later, behind the house in the courtyard, sunken in the mud," he said.
"This is the worst thing I've ever seen in my life, the worst thing I could imagine. I brought him to this chapel because there was nowhere else to take him. I wanted Jesus Christ to bless him."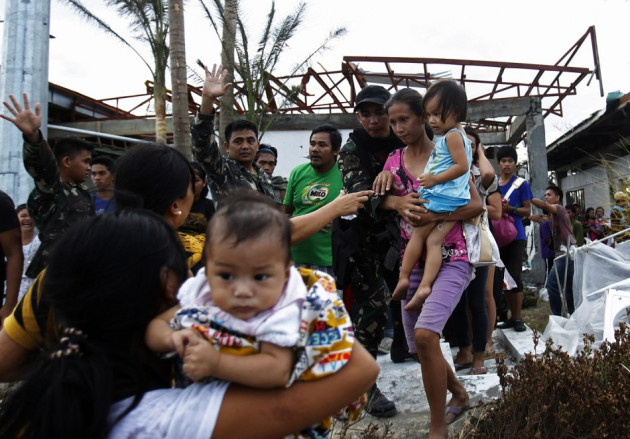 Authorities said that at least 9.7 million people in 41 provinces were affected by the typhoon, which was one of the most powerful storms ever to be recorded.
Some 800,000 people were evacuated ahead of the storm but some refuge centres were not safe enough.
"America, which was prepared and very rich, still had a lot of challenges at the time of Hurricane Katrina, but what we had was three times more than what they received," said Gwendolyn Pang, the Philippine National Red Cross's executive director.
Emily Ortega, a pregnant 21-year-old woman, had to swim out of the Tacloban evacuation centre she had found shelter in after a 6-metre (20ft) storm surge crashed through the building.
She survived by clinging to a post. As the storm weakened, she reached safety at the airport, where she gave birth to a baby girl.
Marvin Daga, 19 said her house was uprooted and carried away by the storm surge with her and her ailing father Mario still in it.
The house was smashed in the maelstrom and they fell into the churning waters. Daga grabbed a coconut tree and tried to cling to her father but he was pulled away by the force of the water.
"I hope that he survived," Daga said. "But I'm not expecting to find him any more."
Authorities have declared a state of emergency in Tacloban following widespread looting by desperate survivors.
Nationwide, President Benigno Aquino declared a state of national calamity to speed up relief efforts.