After Super-Typhoon Rammasun left over 100 people dead in Southeast Asia, another strong typhoon is developing in the Pacific and is expected to hit the Philippines and Taiwan in the coming days.
Rammasun is believed to have killed at least 119 people, with victims from Vietnam, Philippines and China.
The storm was the strongest to hit China in over 40 years, with winds reaching 216km and heavy rain causing landslides and flooding. Xinhua news agency said over 600,000 have been resettled, while 240,000 are in need of basic necessities.
Rammasun was so strong it blew a three-metre, four-tonne whale onto a beach in the city of Yangjiang, in South China's Guangdong Province. Locals worked with police and soldiers to help the whale back into the sea.
At present, Typhoon Matmo is following in Rammasun's path. It is currently centred east-northeast of Manila and northern parts of the Philippines are expecting more rain and strong winds as the storm approaches. Officials have warned of further flash floods and landslides.
"Matmo has entered the Philippine area of responsibility. We should get ready now before the heavy rains fall," President Benigno Aquino's spokeswoman Abigail Valte said.
Matmo is expected to become a Category 3 typhoon – the third in the five-level scale – over the coming days.
Steve Gregory, a meteorologist from The Weather Underground, said the typhoon has been subject to "major intensification" over the last 24 hours and is expected to get stronger just before hitting the coast of Taiwan.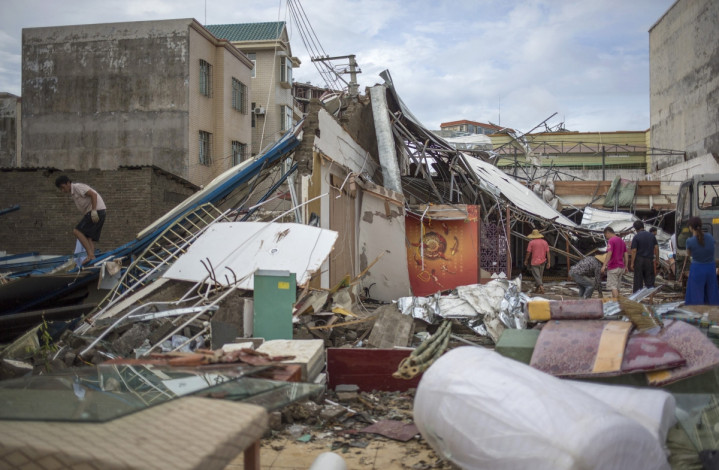 Nasa said it has seen powerful thunderstorms developing in Matmo, with infrared satellite images showing very cold temperatures: "Tropical cyclones consist of hundreds of thunderstorms. When Nasa's Aqua satellite flew over Tropical Storm Matmo... the Atmospheric Infrared Sounder instrument showed some cloud top temperatures exceeded -63⁰F/-52⁰C around the storm's centre and in the south-western quadrant of the storm, indicating strong storms with the potential for heavy rainfall."
Matmo is the third typhoon in the western Pacific Basin in the space of just three weeks.
Taiwan, which has a population of 23 million, has issued a sea warning and is expected to issue a land warning tomorrow, before the storm is set to hit on 23 July.
Adam Douty, a meteorologist with Accuweather, said: "The eastern coast of Taiwan will see impacts from Matmo begin Tuesday with outer bands of squally showers and thunderstorms moving into eastern parts of the island. However, the greater impacts will not arrive until Tuesday night and Wednesday while the typhoon moves across or near the country."