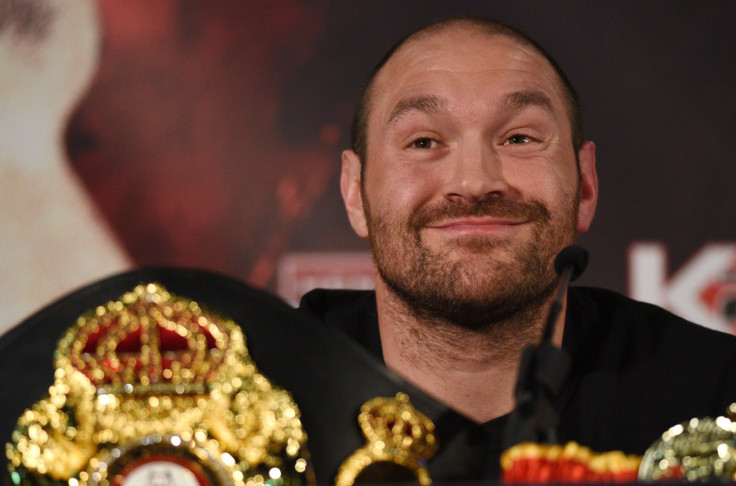 Tyson Fury failed to show up at the final press conference ahead of world heavyweight title showdown with Wladimir Klitschko — because his car broke down.
Ahead of their rematch taking place at the Manchester Arena on 29 October, the Ukrainian was the only fighter in attendance on Monday (12 September), with Frank Warren left to explain Fury had suffered a mechanical failure on his way to London on the M6.
But the head of BoxNation stressed Fury's absence was simple bad luck and that the fight will go ahead as planned.
Fury, 27, ended Klitschko's 11-year dominance in Dusseldorf last November to take his WBO, WBA and IBF world titles. A rematch clause was quickly activated by the Ukrainian, but the proposed bout has been dogged by controversies ever since which have threatened to scupper any bout completely.
An ankle injury suffered by Fury and allegations of doping presented stumbling blocks before Klitschko threatened the Manchester-born fighter with legal action for his attempts to re-negotiate the financial terms of the deal. Both camps finally came together in early September to confirm the rematch.
Press conferences involving the two have garnered a reputation for being lively affairs. Ahead of their first fight in September 2016, Fury stunned his opponent by arriving dressed as Batman, taking questions from the press dressed as the Caped Crusader.
In May, ahead of their rematch which was originally proposed for July Fury took off his shirt and warned Klitschko he was going to be knocked out by a man who is "as fat as a pig".
"I don't care about boxing, it is mainly about making a few quid and that's it. If that is all a professional can do then god help us all," Fury said in the confrontational encounter. "What is the point practising for 40 years if you can't beat a fat man? Can I fight? Yes. Does it matter what a pit bull looks like? Does it f**k. Fat as a pig, 30 stone and I could beat you here and now," Fury boasted.