Tyson Fury will return to the ring only next year says uncle and trainer Peter Fury
Tyson Fury is currently 'medically unfit' to fight.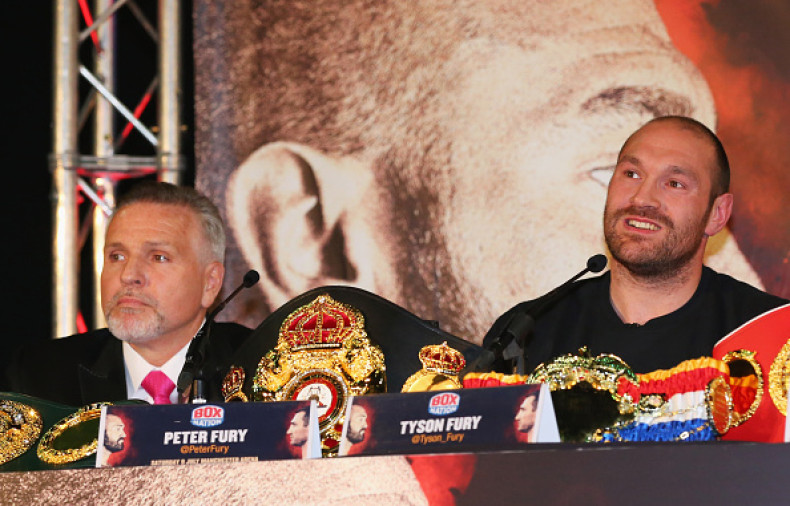 World Boxing Heavyweight champion Tyson Fury will be out of action until next year confirmed his trainer and uncle Peter Fury. Tyson, who is the current World Boxing Association (WBA) and World Boxing Organisation (WBO) champion, recently pulled out of the much-anticipated rematch against Wladimir Klitschko on 29 October because he was "medically unfit."
Fury's withdrawal from the event came in for stinging criticism from various quarters with promoter Eddie Hearn commenting that Fury would not return to the ring in the future and this move might force the boxing authorities to strip him of his current WBA and WBO titles.
"I don't want to see him set foot in that ring until I see 100% Tyson Fury back mentally and physically, until that, the best place is home. I think Tyson will be fine and will be back. Eddie is now a promoter, a doctor, a psychiatrist, a psychologist, all rolled into one and now a team Fury member as well because he knows Tyson so well. You have got to be all those things rolled into one to make comments like that and for them to be remotely true", Peter Fury said, as quoted by BBC.
"It certainly won't be this year (on Fury's return). It will probably be early next year. He will be back", the trainer added.
The fight between the duo has had its share of setbacks and this is not the first time that Fury has postponed his clash with the heavyweight boxer. The Gypsy King had called off their initial bout, which was scheduled to take place on 9 July due to an ankle sprain, which saw him being out of action for six weeks.
The Brit beat Klitschko via a majority decision in Dusseldorf, Germany in November 2014 to pick up the WBA, IBF, WBO and IBO titles, but was stripped of his IBF title because he was unable to fight mandatory challenger Vyacheslav Glazkov.
While no rematch date between the duo has been set as of now, promoter Eddie Hearn said his client and IBF title holder Anthony Joshua could be in contention to take on Klitschko for the heavyweight unification clash.