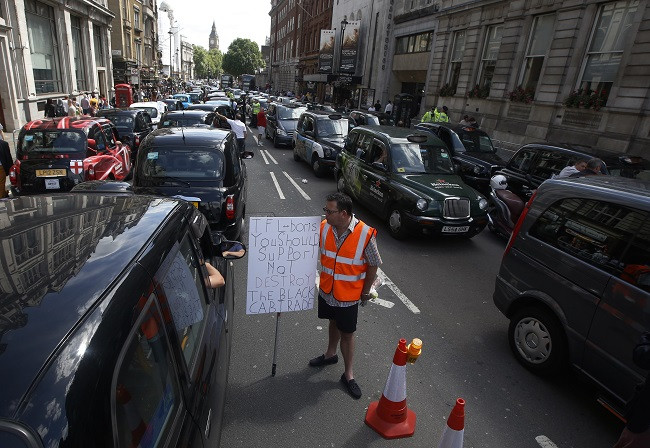 Uber has recorded an 850 per cent rise in downloads as London black taxi drivers took to the streets in protest today against the controversial startup.
Up to 12,000 taxi drivers brought central London to a standstill in retaliation against Transport for London (TfL) for failing to regulate the app at the expense of their livelihoods.
The Licensed Taxi Drivers Association, which organised the rally in Trafalgar Square, is calling for the app to be banned or properly regulated as it claims the app acts like an unlicensed taxi meter.
It can be used to book rides in both licensed taxis and minicabs and prices are based on distance travelled. Price fluctuations depend on demand and the number of taxis available.
Uber has also launched UberTaxi, a service on the same app, which will allow users to pay for a black cab.
Jo Bertram, the app's UK and Ireland general manager, said it had seen its largest day of downloads since it started in London two years ago.
"Today we're seeing an 850 per cent increase in sign-ups compared to last Wednesday. The results are clear: London wants Uber in a big way. Unsurprisingly, the Licensed Taxi Drivers' Association (LTDA), which is stuck in the dark ages, is intent on holding London to ransom and causing significant economic impact to Londoners today, estimated to be £125m," she said.
The app now operates in more than 120 cities in 36 countries around the world including London and Manchester.