Group A:
Full time: Atletico Madrid 5-0 Malmo FF - Full time: Olympiakos 1-0 Juventus
Group B:
Full time: Liverpool 0-3 Real Madrid - Full time: Ludogorets Razgrad 0-0 FC Basel
Group C:
Full time: Bayer Leverkusen 2-0 Zenit St Petersburg - Full time: Monaco 0-0 Benfica
Group D
Latest: Galatasaray 0-4 Borussia Dortmund - Full time: Anderlecht 1-2 Arsenal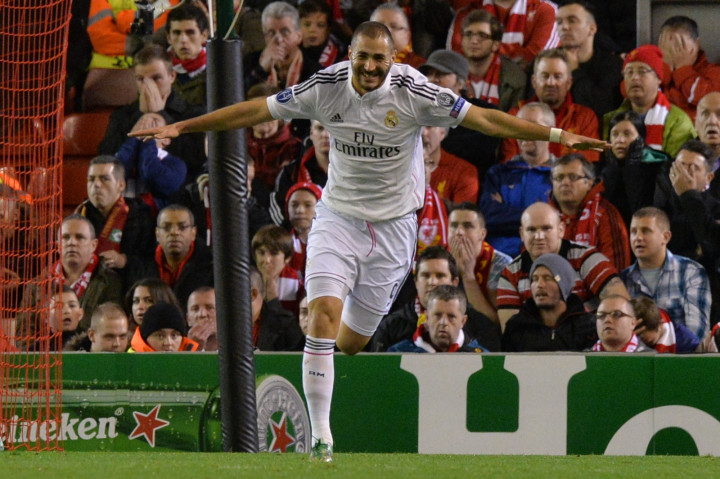 21:42: Full time from across europe and contrasting results again for English clubs in the Champions League with Arsenal winning but Liverpool being swept aside by Real Madrid.
Well that draws our live text to a close. We're back with coverage of the Europa League tomorrow evening but until then, goodbye.

21:39: Amazing! Arsenal with the ultimate smash and grab to down Anderlecht in the final minutes. They gather a second win of the group stage on Arsene Wenger's 65th birthday. Kieran Gibbs and Lukas Podolski have done the business for the Gunners.

Goal: Atletico Madrid 5-0 Malmo FF (Alessio Cerci)

Goal: Ludogorets 1-0 FC Basel (Minev)

21:35: Two goals in as many minutes look set to give Arsenal all three points in Belgium. Sanchez keeps an Arsenal attack alive at the back post and when his cross is only half cut out, Podolski reacts first and smashes home what will surely be the winner.

Goal: Atletico Madrid 4-0 Malmo FF (Diego Godin)

Goal: Anderlecht 1-2 Arsenal (Lukas Podolski)

21:32: They barely deserve it but Arsenal are level against Anderlecht. Oxlade-Chamberlain's cross towards the back post evades everyone and Gibbs comes in and volleys home from ten yards. Very neat finish and the Gunners have seemingly survived.

Goal: Anderlecht 1-1 Arsenal (Kieran Gibbs)

21:29: Martinez makes a good save to keep out Defour as the Gunners continue to hang on in Anderlecht. The response to going behind has been almost non-existant.

Goal: Galatasaray 0-4 Borussia Dortmund (Adrian Ramos)

21:27: Arsenal hanging on in Belgium as Vanden Borre hits the woodwork from close range with players queuing up to score. This is verging on the emabressing for the north Londoners.

Red card: Wendell (Bayer Leverkusen)

Red card: Lisandro Lopez (Benfica)

21:18: Cristiano Ronaldo off and Sami Khedira on for Real at Anfield. Barcelona and El Clasico in mind for Carlo Ancelotti. Meanwhile, Arsenal bring on Joel Campbell and Alex Oxlade-Chamberlain as they seek an equaliser.

21:16: Arsene Wenger's birthday is turning into a nightmare. Anderlecht take the lead with 19 minutes left as Praet's cross goes beyond Monreal and Mertesacker and Najar stoops to head past Martinez.

Goal: Anderlecht 1-0 Arsenal (Andy Najar)

Goal: Atletico Madrid 3-0 Malmo FF (Antoine Griezmann)
Goal: Atletico Madrid 2-0 Malmo FF (Mario Mandzukic)

21:06: Liverpool contributing to their own downfall at times and Lovren and Johnson get into a mess and almost gift Ronaldo a second but Mignolet makes a good save. Arsenal meanwhile strill struggling to make an impression on Anderlecht but Proto has made a good save from Cazorla.

Goal: Bayer Leverkusen 1-0 Zenit St Petersburg (Massimo Donati)

21:00: Meanwhile, in Madrid...

20:58: No surprise that news that Balotelli shirt-swapping antics has flooded social media and is being suggested as the reason for the Italian being withdrawn at the break, not least due to his uninspiring performance. This one will run and run you feel.

Goal: Atletico Madrid 1-0 Malmo FF (Koke)

20:51: Chance for Anderlecht as Conte's shot is deflected just wide of the Arsenal goal. Nothing to smile about so far for Arsene Wenger on his 65th birthday.

20:49: Second halfs under way across Europe. Notable change for Liverpool as Adam Lallana replaces Mario Balotelli, who swapped shirts with Pepe at half time.

20:37: Half time across Europe and no doubt where the headlines are coming from. Real Madrid score three times at Anfield to secure victory without barely breaking sweat against Liverpool. If Cristiano Ronaldo's opener was superb then the manner of Karim Benzema's double has been embaressing for Brendan Rodgers' men. Arsenal meanwhile are level with Anderlecht after an even first half in Belgium. Neither team posing much of an attacking threat there.

Goal: Galatasaray 0-3 Borussia Dortmund (Marco Reus)

20:29: Goodnight Liverpool. Modric's corner from the left isn't dealt with by either Lovren or Skrtel and as Mignolet comes out to meet Pepe he nicks the ball ahead of the Reds 'keeper and Benzema simply taps into an empty net. Messy, messy goal after an admirable performance for the first 40 minutes.

Goal: Liverpool 0-3 Real Madrid (Karim Benzema)

Goal: Olympiakos 1-0 Juventus (Pajtim Kasami)

20:22: What of Arsenal in Anderlecht? Well Arsene Wenger's men are weathering an attacking storm from the home side and are offering very little threat in the final third. Alexis Sanchez brings the ball down and slams over in a rare opening. Anderlecht comfortable.

20:18: Another picturebook finish from Real Madrid and they're almost out of sight in the first half at Anfield. Kroos' cross is towards the back post and Karim Benzema directs his header up and over Simon Mignoolet and intot he corner. Fabulous finish and Liverpool powerless to stop it.

Goal: Liverpool 0-2 Real Madrid (Karim Benzema)

20:11: Introducing the world's best player; Cristiano Ronaldo who breaks his Anfield duck is sensational fashion. Finding James Rodriguez 25 yards from goal, the Columbian flicks the ball over the Liverpool defence and on the half volley Ronaldo strikes brilliantly beyond Mignolet. Tremendous finish.

Goal: Liverpool 0-1 Real Madrid (Cristiano Ronaldo)

20:09: We had a mamouth 40 goals in eight Champions League matches last night, but just two have come in the opening quarter of games tonight. Having said that, many of Tuesday's games were one-sided and done by half time. At least there are no forgone conclusions here.

Goal: Galatasaray 0-2 Borussia Dortmund (Pierre-Emerick Aubameyang)
Red card: Serey Die (FC Basel)

20:03: James Rodriguez is currently off the firld being patched up after suffering a cut to his eyebrow. Real have were down to 10-men for at least five minutes before the Columbian was deemed able to continue.

19:58: Liverpool growing as a threat and Iker Casillas is froced to keep out Steven Gerrard's dipping effort from range. Real not found their stride just yet. In Belgium meanwhile, Santi Cazorla curls a free-kick into the Anderlecht wall.

19:56: First effort in anger from Cristiano Ronaldo, forcing Simon Mignolet into a low save at his near post. Liverpool very competitive in the early moments here and Raheem Sterling is causing all sorts of problems for Pepe and Varane already. Has a special feel about it does tonight's game.

Goal: Galatasaray 0-1 Borussia Dortmund (Pierre-Emerick Aubameyang)

19:50: Half chances for both Arsenal and Liverpool early on. The Reds spurn their chance first as Balotelli fails to find Sterling with Madrid short at the back, while the Gunners have an attempt on goal buy Santi Cazorla slams a Sanchez cross high into the stand behind the goal.

19:47: Under way in all eight matches in the Champions League tonight.

19:45: Teams are out across Europe. Our attention will be on the games in Anderlecht and Liverpool but stay here for all the goals from across the continent in all eight matches tonight. We had a deluge of goals last night and lets hope for more of the same. Kick-off on the way.

19:30: No doubt that all eyes are on Cristiano Ronaldo at Anfield tonight. The world footballer of the year has scored 15 goals in seven La Liga matches this season and has seemingly reached another level at the start of this term. Having never scored at Anfield in five attempts, Ronaldo has unfinished business on Merseyside and given that Real will surely score tonight you fancy the Portuguese forward will get a chance to improve on that record.

19:25: Big games in isolation they might be (ok maybe only at Anfield) but tonight represents a big stage in Arsenal and Liverpool's attempts to reach the knock-out phase of the Champions League. Both teams have just three points from their opening two matches, but their disappointing doemstic form makes them vulnerable tonight. Arsenal are facing an Anderlecht side who are expected to be the whipping boys in their group while Liverpool are of course up against the reigning champions spearheaded by the world's best player. Whichever way you look at it, tonight is a defining night for both team's European ambitions.

19:18: Naturally, our concentration tonight is on the fortunes of the two Premier League sides but there are six other tasty group stage matches to sink your teeth into. Group A sees Atletico Madrid and Juventus in action against Malmo and Olympiakos while Bayer Leverkusen host Zenit and Monaco play Benfica in Group C. I'll forgive you though, if your attention is on the drama at the Constant Vanden Stock Stadium or Anfield tonight.

19:12: Lets not forget that Arsenal are in action tonight in Anderlecht also but they travel to Belgium with depleated resources. Damian Martinez makes his Champions League debut in goal in the absence of the suspended Wojciech Szczesny and the injured David Ospina. Elsewhere, Nacho Monreal starts at centre-back and Aaron Ramsey is back from the start.

The team news for Liverpool is headlined by the retention of under-fire Mario Balotell in attack. Philippe Coutinho and Joe Allen both return from the start too while Alberto Moreno plays at left back. Real are without Gareth Bale and Sergio Ramos but start Isco as part of a frightening front six.
19:05: Team news:

Anderlecht v Arsenal

Anderlecht: Proto, Deschacht, Mbemba, Vanden Borre, Praet, Defour, Tielemans, Najar, Cyriac, Acheampong, Conté

Arsenal: Martínez, Gibbs, Mertesacker, Monreal, Chambers, Wilshere, Ramsey, Cazorla, Flamini, Sánchez, Welbeck

Liverpool v Real Madrid

Liverpool: Mignolet; Johnson, Lovren, Skrtel, Moreno, Gerrard, Allen, Henderson, Coutinho, Sterling, Balotelli

Real Madrid: Casillas, Varane, Pepe, Arbeloa, Marcelo, Isco, Kroos, Modric, Rodriguez, Ronaldo, Benzema.

19:00: If the Champions League has failed to come alive this season, tonight will surely see that chance. At Anfield, two or the most decorated sides in the competition's history, with 15 European Cups between them, collide in a mouthwatering group stage match. Liverpool and Real Madrid are bathed in history but their present state could not be more contrasting. Real are reigning European champions and in among the goals in La Liga ahead of an El Clasico meeting with Barcelona, while Liverpool are a shadow of the team they were last term with Mario Balotelli failing to live up his billing as Luis Suarez's replacement. With Cristiano Ronaldo returning to English shores, sparks could fly on Merseyside in a game which could yet ignite the competition.