A better Dominick Cruz will return to the octagon says his longtime coach, Eric Del Fierro.
Cruz suffered defeat for the first time in 10 years at UFC 207, losing the bantamweight title to Cody Garbrandt via unanimous decision.
In what was a heated rivalry between the two, with many back-and-forth arguments, it was Garbrandt who impressed the world with his flashy performance as he thoroughly outclassed Cruz.
Garbrandt later went on to say that he believed he "broke" Cruz following UFC 207, offering it as an explanation as to why the former champion declined a rematch. However, Cruz's coach at Alliance MMA, Del Fierro says otherwise, claiming that Cruz acted the same way after the defeat as he would with a win.
"It's no different than dealing with Dominick after a win," Del Fierro said as quoted on MMAFighting. "You go back and you look at what went great, and you look at what went wrong. We do that when we win, as well.
"This sport is evolving everyday, and we knew this was going to be a tough fight — there's no such thing as Dominick having an easy fight, period. Win or lose, he knows what he needs to do. He knows what little mistakes to work on, and what Cody shined on. At this point, it's just sitting back and making the right decision on when he wants to fight again."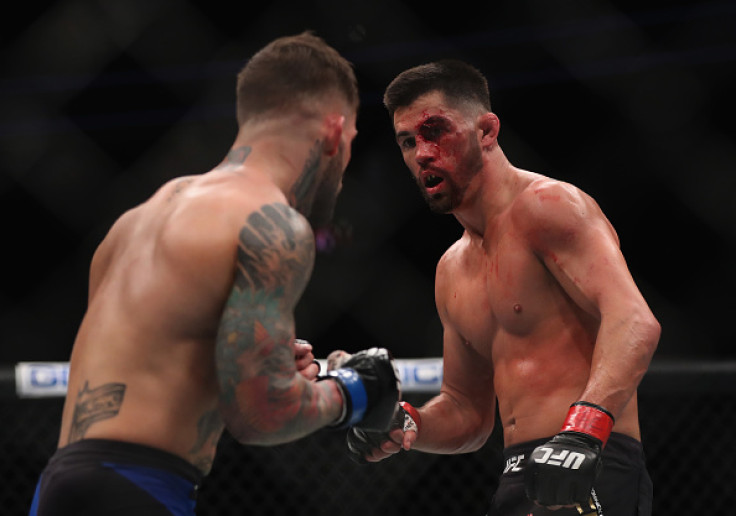 Cruz notably didn't perform the way most fans have come to expect, leading many to believe he was injured for the fight. During the post-fight press conference, the 32-year-old admirably refused to make excuses for his performances, stating that Garbrandt was the better man on the night.
However, Cruz recently revealed on Joe Rogan's podcast that in the buildup to his fight with Garbrandt, he was suffering from plantar fascia tendinitis on both feet, a condition affecting the sole of the foot.
The pain was so much that the former bantamweight champion admitted to walking to the bathroom on his hands and knees so he would not have to put pressure on his feet. Del Fierro however, is not making excuses either, saying things just did not work out that night.
"I've been blessed in the sense that he's been with me for so long," he added. "I know when everything is 100 percent perfect, and I know when certain things are missing, or when things weren't executed, due to him or due to Cody."
"It just didn't work out the right way. He knows it and I know it, and you just go back and make adjustments. It's no different if he had won the fight. We would still make the adjustments, and we'd figure out what went right and what went wrong.
"He's learned a lot about himself and who he is. And honestly, fighting is a big part of his life, but it's something he's still having fun with. When it becomes a job, or when it becomes more than that, maybe it'll be too much of him. But right now he loves it, and he's looking forward to competing again. I think this is the best version of Dominick that'll be coming back to fight again."
Cruz is expected to fight the winner of Garbrandt's title fight with TJ Dillashaw, which takes place at The Ultimate Fighter 25 Finale in July 2017.