UFO Falling into Mexican Popocatepeti Volcano Captured on Camera [VIDEO]
Mexican TV shows mysterious object free-falling into volcano's crater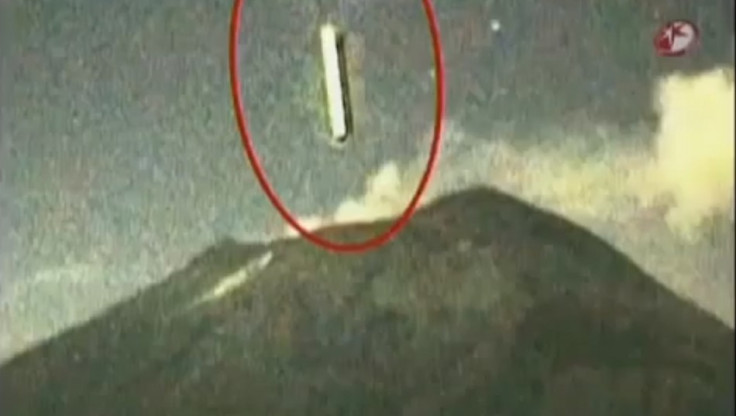 A Mexican television channel has broadcast images of what is allegedly a massive cylindrical UFO crashing down into the crater of Popocatepeti volcano.
Multimedia company Televisa captured the image on a fixed camera used to monitor the activity of the volcano, 80km south of Mexico City.
The video shows a silver object in the shape of a suppository falling down in to the mouth of the volcano at high speed then disappearing into the crater.
The UFO was said to be about 1km long and 200m wide, according to Televisa.
The Popocatepeti is not new to UFO sightings, as several videos showing mysterious objects flying around it can be seen on YouTube.
Popocatepeti, which is 5,426 m (17,802 ft) high and and active, is Mexico's second highest peak.
International Astronomical Union member Margarita Rosado played down the enthusiasm of the ufologists.
She said that when the object "crashed" into the crater, there were no explosion, eruption or smoke, as would have been expected.
Pixel variation could be seen around the object, suggesting that the video was defective or had been tampered with, Rosado said.
"It is interesting to notice how it [the object] was descending. It would have been much more spectacular if it was ascending," contrary to natural physics laws, she added.
"It was Felix Baumgartner ... free fall into active volcano," one commenter quipped on YouTube.
The British Unidentified Flying Object Research Association (BUFORA) had a different explaination: "Volcano, cooling crystals, shards. This looks like a small thin splinter of quartz or semi-liquid ash still glowing and it is close to the camera lens," BUFORA told IBTimes UK.
"The reason the light stops at the mouth of the volcano is that the red and white light refraction from the upper atmosphere or brighter light behind the camera has then lost the brighter light areas above the volcano hill horizon."
"The depth of the shard or ash streak can be seen with a hint of depth of the shadow along its right hand side edge and if this was an object over the mouth of the lava area, it would have produced some colour changes. It remains steadily white and bright throughout all stages of the freeze frames."
"This is the geo equivalent of an insect or dust causing bright orbs close by whilst focusing on something much further away."
© Copyright IBTimes 2023. All rights reserved.