An emotional visit by Israeli Prime Minister Benjamin Netanyahu to Uganda was marred by controversy this week after the African country's president repeatedly referred to Israel as "Palestine" during a speech.
Netanyahu arrived in Uganda on Monday (4 July), where he was kicking off a four-country tour of sub-Saharan Africa.
Meeting Ugandan President Yoweri Museveni, the two leaders attended an event in Entebbe marking the 40th anniversary of the 1976 hijacking of an Air France flight by Palestinian militants.
The hijacked airplane from Tel Aviv was welcomed by Uganda's dictator at the time, Idi Amin. While many hostages were free by the hijackers, Israeli passengers were held under armed guard in an old terminal building.
A raid to free the remaining hostages was undertaken by commandos in the Israel Defense Forces (IDF) and led by Netanyahu's older brother, Jonathan, who died in the rescue. Three hostages, 45 Ugandan soldiers and all the hijackers were also killed.
Netanyahu, who has repeatedly said his brother's death was a pivotal moment in his life, spoke of the 40th anniversary being a "deeply moving day for me", adding: "Forty years ago they landed in the dead of night in a country led by a brutal dictator who gave refuge to terrorists. Today we landed in broad daylight in a friendly country led by a president who fights terrorists."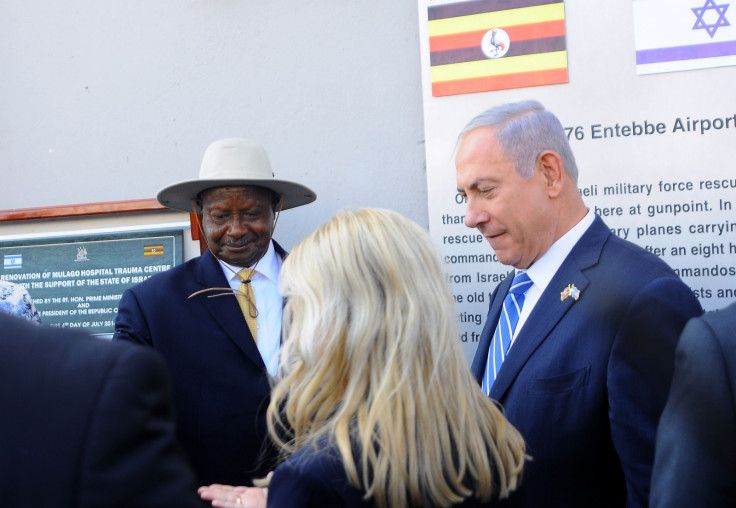 But a rambling speech later given by President Museveni – branded "gaffetastic" by one Ugandan watching – overshadowed the commemorative event, when he repeatedly referred to Israel as Palestine.
He began by saying: "I want to thank him [Netanyahu] for turning this sad story 40 years ago into yet another instrument of bonding the Holy Land, Israel [and] Palestine, with the heartland of Uganda."
But he continued: "The sad event, 40 years ago, turned into another bond linking Palestine to Africa. I said this is yet another bond between Africa and Palestine because there were earlier bonding events."
Netanyahu didn't seem to react and was seen sitting silently with his wife as Museveni spoke on the podium. But Israelis on social media criticised the speech, calling it rambling and bizarre.
One Israeli journalist tweeted: "Translator on TV now saying Museveni's address was the strangest and most disorganised speech he's ever translated."
Israeli radio stations even cut off broadcast of Museveni's speech after his repeated references to Palestine, according to some reports.
Ofwono Opondo, a spokesperson with the Ugandan government, later sent a tweet in defence of the Israel/Palestine mix-up, writing: "The whole of that land was originally known as Palestine so Museveni's reference isn't wrong."
The commemorative event attracted controversy before Netanyahu's arrival, however, with some Uganda government officials saying its pitch as an Israeli success overshadowed those Ugandans who lost their lives in the raid.
Moses Ali, Uganda's deputy prime minister who also served under Amin, suggested the country should be "mourning their dead ones" rather than celebrating an "Israeli victory".
Netanyahu's tour saw him travel to Kenya on Tuesday. He will go on to Rwanda and Ethiopia to continue discussions on regional security and investment.
His entourage will also seek to improve relations with African nations, who have consistently backed Palestinian bids for statehood in the UN general assembly.