The UK and Argentina have signed a deal that will enable them to establish the identities of several Argentine soldiers buried in a cemetery on the Falkland Islands. More than 600 Argentine soldiers died in the 1982 Falklands War, of whom 237 were buried in a memorial on the islands.
The graves of nearly 123 unidentified Argentine soldiers in the Darwin cemetery on Falkland Islands are currently marked as "soldier only known to God". The International Committee of the Red Cross, which helped broker the deal, will collect DNA samples from the remains of the fallen soldiers to establish their identities.
The deal was signed on Tuesday (20 December) between Foreign Office minister Sir Alan Duncan and Argentina's Deputy Foreign Minister Pedro Villagra Delgado in London. The signing of the agreement was preceded by a meeting between the two leaders, according to a Twitter post by Duncan.
Duncan wrote: "Good talks w/Argentine Dep. Foreign Minister Villagra on UK-Arg. Agreed way forward on new flights from Falkland Islands to Latin America."
Under the agreement, the work towards identifying the Argentine soldiers would begin by next summer, the BBC reported.
The new deal follows a historic agreement reached between the two nations in September over the disputed territory, wherein they agreed to negotiate fishing, trade, oil exploration and direct flights to the remote overseas territory. However, the Foreign Office had said that the sovereignty of the islands was not up for debate.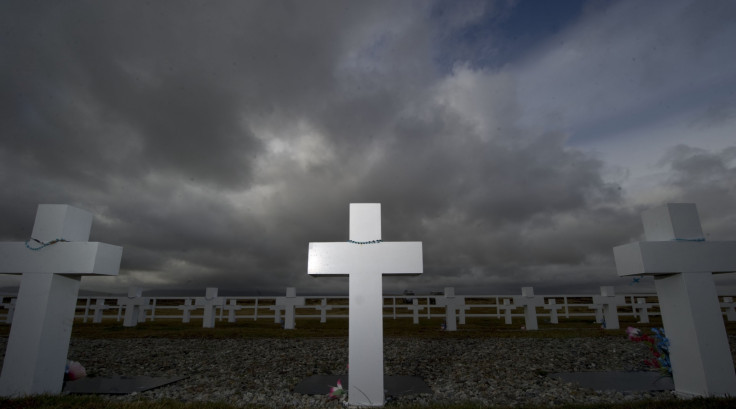 The UK and Argentina fought over the disputed overseas archipelago in 1982 after Argentina invaded and occupied the Falkland Islands, known in Argentina as Las Malvinas, in the south Atlantic. The next day, Argentina occupied the nearby South Georgia and the South Sandwich Islands and claimed sovereignty over the region.
The two-month-long conflict led to the deaths of some 649 Argentine and over 250 British soldiers. Eventually, a UK taskforce recaptured the overseas territory, but the incident triggered years of hostilities between the two nations.
Relations began to improve after President Mauricio Macri assumed office in Argentina and started engaging in dialogue with the UK administration. The signing of the new deal also happened after recent talks between Macri and Duncan in the Argentine capital Buenos Aires.