Armed police officers in England and Wales discharged their guns just twice in 12 months despite being involved in more than 14,000 firearms operations.
According to figures released by the Home Office, there were 14,864 police firearm operations between March 2013 and March 2014, a fall of 4% from the previous year and a decrease of 36% from March 2009.
Of these operations, 12,061 involved Armed Response Vehicles (ARV), a decrease of 4% from the previous year. Figures also show there has been a decrease in the number of armed police deployed by the 43 forces across England and Wales.
During these 12 months, officers only discharged their guns on two occasions. The Home Office said this figure has been six or less in each of the last five years.
Discussing the figures, National Police Chief Council (NPCC) Lead on Armed Policing, deputy chief constable Simon Chesterman said: "The Home Office statistics on armed policing continue to reflect the professionalism and restraint of our armed police officers.
"The number of firearms operations continues to reduce demonstrating the high levels of scrutiny applied by commanders when authorising firearms deployments.
"I am confident that our highly skilled, highly trained and highly accountable firearms officers are carrying out their duties with professionalism and restraint. On a daily basis they put themselves in harm's way to protect the public.
"The threat from terrorism remains severe and this coupled with the threats associated with serious and organised crime and violent individuals means that we will continue to rely on armed police to step forward and protect us. I am proud of our armed policing capability and the police service works tirelessly to constantly improve our training and tactics."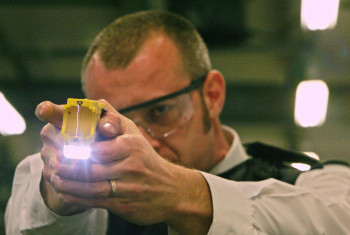 Tasers
However, figures released for the use of Tasers by police shows an increase of 50% over the past five years. The figures were released after an inquest ruled that Manchester man Jordon Begley died as a the result of being "inappropriately and unreasonably" Tasered by Greater Manchester Police officers.
The figures reveal that police used a Taser 10,062 times in 2014, a decrease of 3% from 2013, but a rise from 6,649 incidents in 2010.
The statistics show officers used the highest "fire" setting – used to incapacitate the victim – a total of 1,724 times last year, compared to 256 uses of the milder "stun" setting.
NPCC Lead on Less-Lethal Weapons, deputy assistant commander Neil Basu, said the figures raise some concerns and has called for an independent review into the safety of Tasers.
Basu added: "The detailed narrative of the jury's verdict in the Jordon Begley case will be closely examined, and of course it raises some concern that the use of Taser and other factors are linked to the death. They concluded that 'The stress of the discharge and the restraint more than minimally and materially contributed to the death of Jordon Begley'.
"As a result I will be asking the surgeon general - along with the Home Office - to refer the detailed medical evidence in this case to an independent body in order that they can determine if it is necessary to amend their advice on the safety of this weapon. Their conclusions will be published."