President Barack Obama is taking steps to make American police forces look less like mini armies with sophisticated weaponry supplied by the Pentagon. He's banning federal agencies from supplying some military-style equipment and restricting other weapons and gear.
The White House initially indicated last year that police would likely continue to be provided with high-tech military weapons, some of which were used in shows of force against protesters in Ferguson, Missouri, demonstrating against the killing of a young black man by a white officer.
But a report subsequently found a "substantial risk of misusing or overusing" items like tanks and camouflage, which could undermine citizen trust in police.
Five federal agencies, including the Departments of Justice and Defence have spent $18bn (£11.5bn) on programmes that provided equipment to police such as 92,400 small arms, 44,300 night-vision devices, 5,200 Humvees, 617 mine-resistant vehicles and 616 aircraft, the report found.
"We've seen how militarised gear can sometimes give people a feeling like there's an occupying force as opposed to a force that's part of the community that's protecting them and serving them," Obama said in Camden, New Jersey, where he discussed his executive order cracking down on weapons. "It can alienate and intimidate local residents and send the wrong message."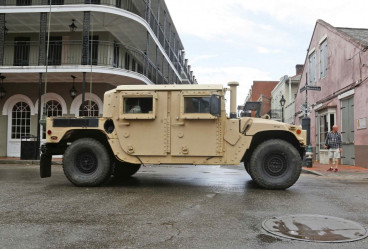 Effective immediately, the federal government will no longer fund or provide armoured vehicles that run like a tank on a tracked system, weaponised aircraft, firearms or ammunition of .50 calibre or higher, grenade launchers, bayonets and some types of camouflage uniforms, reports CNN. The White House is also considering recalling some of that equipments already distributed to police forces.
In addition, other equipment will be more closely monitored, including armoured vehicles such as Humvees, manned aircraft, drones, specialised firearms, explosives, battering rams and some riot batons, helmets and shields.
Beginning in October, police will have to get approval from their city council or mayor, provide a convincing reason why it's needed, and develop more training and data collection on its use.
Police can still bypass the bans by purchasing equipment from private sellers.
The weapons crackdown comes as the White House released the final report of a task force Obama created to improve relationships between police and minority communities after several controversial African American deaths at the hand of officers.