UK Chancellor George Osborne wants 'golden relationship' with China after stock market turmoil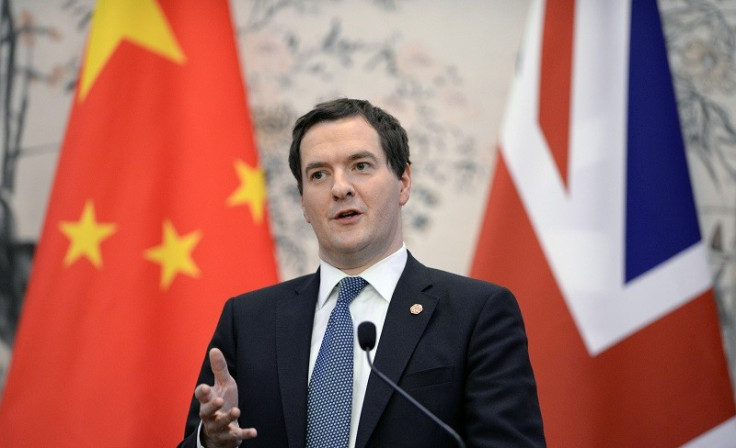 George Osborne has reportedly urged the Chinese government to keep up its economic reform programme as the Chancellor beings his week-long tour of the single-party state. The top Tory aims to cement the UK's trading relations with the world's second largest economy after shares on the Chinese stock market plummeted over the Summer.
Osborne is expected to tell his Bejing counterparts that Britain plans to increase its cooperation with China in the wake of the crisis and argue that stronger economic ties between the nations could be hugely profitable for both countries. The Chancellor will visit the Shanghai stock exchange on 22 September, but he has spoken before the event after touching down in China.
"I think the message I would say to China is, carry on with the reform, carry on with the change you're making," Reuters reported Osborne saying. "Of course there have been ups and downs. We've seen that through the summer. In our estimation the spillover effects, the impact of that on other financial markets, has been relatively limited.
The Treasury said Osborne will take a top-tier business and ministerial delegation to Beijing, Shanghai and Chengdu during the trip. The Chancellor will also be joined by the Business Secretary Sajid Javid, Energy Secretary Amber Rudd, among others on parts of the visit.
The trip comes as Tibetan spiritual leader Dalai Lama visits the UK. The Buddhist is one of the most well-known critics of China and the UK government were criticised by Beijing when David Cameron and the former Deputy Prime Minister Nick Clegg met him in 2012.
As IBTimes UK exclusively reported, the Dalai Lama will meet with some MPs during his visits but he is not expected to meet with Cameron or any of his ministers while the Tibetan is in Britain.
"We never request for a meeting with a prime minister, president or any other minister. His Holiness [meets] on the basis of an invitation from an organisation and individuals. It is the same for this meeting – we did not request any meeting with the prime minister, deputy prime minister or any other minister," said Wangdue Tsering, from the Office of Tibet London.
Writing in The Observer, Osborne said: We want a golden relationship with China that will help foster a golden decade for this country. It is an opportunity that the UK can't afford to miss. Simply put, we want to make the UK China's best partner in the west."
© Copyright IBTimes 2023. All rights reserved.