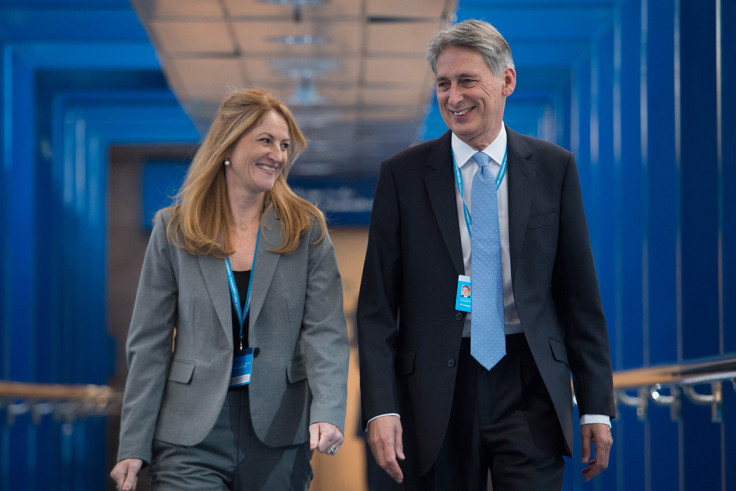 UK businesses which have multi-year funding from the EU will have their payments guaranteed after Brexit, Philip Hammond announced today (3 October). The chancellor, speaking to the Conservative conference in Birmingham, said firms will be able to apply for the funds through the Treasury.
"The Treasury will offer a guarantee to bidders whose projects meet UK priorities and value for money criteria that if they secure multi-year EU funding before we exit we will guarantee those payments after Britain has left the EU," he said.
The senior Conservative said the move will help protect British jobs and businesses after the UK splits from the EU, which is now expected in 2019 after Theresa May revealed her government would trigger Article 50, the official mechanism to split from Brussels, before March 2017.
The chancellor also revealed that he would move away from his predecessor's deficit reduction plan.
"The fiscal policies that George Osborne set out were the right ones for that time. But when times change, we must change with them."
The change in economic direction means the government will no longer target a surplus at the end of the current parliament in 2020. "But make no mistake – the task of fiscal consolidation must continue," Hammond said.
The chancellor followed Communities Secretary Sajid Javid, who announced the government would introduce a £3bn ($3.9bn) Home Builders' Fund and £2bn of new investment to accelerate construction on public land.
"Because making housing more affordable will be a vital part of building a country that works for everyone," Hammond said.
The chancellor also promised to continue to "drive the Northern Powerhouse project", in the wake of Lord Jim O'Neill's resignation from the government and Osborne's decision to establish a think tank on the devolution initiative.
"But our ambition isn't limited to the Northern Powerhouse. We want to create the conditions for success in the north, the south, and everywhere in between," Hammond said.
Elsewhere, the cabinet minister attacked Labour's economic record, using Ed Balls' new fame on the BBC's hit entertainment show Strictly Come Dancing against him.
"I know you remember him from Saturday night – I'm asking if you remember him from when he was shadow chancellor?" Hammond said.
"Yes, I saw Ed on Saturday too – and, not to sound too much like Craig Revel Horwood, I think his Charleston is probably better than his economic analysis!
"He told us back then that our policies would push the economy into recession.
"But he was wrong: since 2010, Britain has grown faster than any other economy in the G7. He said we would never replace lost public sector jobs with new private sector jobs. But we did: not one for one – but seven for one!"
Hammond concluded his well-received speech among the Tory faithful with the government's main line of the conference so far: "A country that works for everyone".