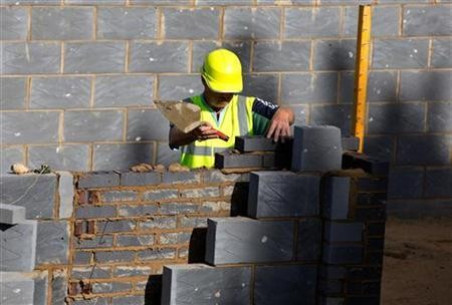 February Construction Sector PMI Reading
46.8, down from January's 48.7.
Key points
Lowest level since October 2009
Analysts expected 49
Firms expect output to rise over coming year
Small rise in employment in February
Residential building rises for first time since May
Comment
Tim Moore, Senior Economist at Markit and author of the Markit/CIPS Construction PMI®, said:
"This is undoubtedly a dismal set of data for the UK construction sector, especially the sharp falls in commercial building work and civil engineering activity.
"With total output falling at the steepest pace for over three years, the latest PMI survey is confirmation that January's construction decline was not entirely snow-related. Downward pressure on client budgets, alongside subdued public sector spending, again led to lower output levels and reduced new order inflows.
"The only exception to the overall output trend was a stabilisation in residential construction, with eight months of sustained decline ending in February.
"Moreover, construction companies cited new house building projects as an area having some potential to boost UK construction output over the next 12 months."
Context
This is a dreadful number and will reignite fears over a triple-dip recession, which many economists think the UK should narrowly avoid.
It was a collapse in construction sector output that dragged the UK economy down into recession at the end of 2011, and its continued decline through 2012 weighed heavily on GDP – even though it only accounts for around 8 percent.
Austerity has hurt construction firms, whose public sector contracts have dried up since the government cuts started to bite.
There is a small amount of room for optimism, however, with the pick up in residential building work suggesting the Bank of England's credit easing initiative, the Funding for Lending Scheme, is working as it stimulates the flow of mortgages into the economy and creates more demand in the housing market.
Read the Markit release in full.
---
Purchasing managers index (PMI) surveys are carried out by Markit Economics and the Chartered Institute for Purchase & Supply (CIPS).
Each month purchasing managers across private UK firms are surveyed to give an indication of business activity in the service, manufacturing and construction sectors.
On the index, neutral output activity is 50.
Any reading above represents expansion, while under signifies contraction.
---
Follow @shanecroucher