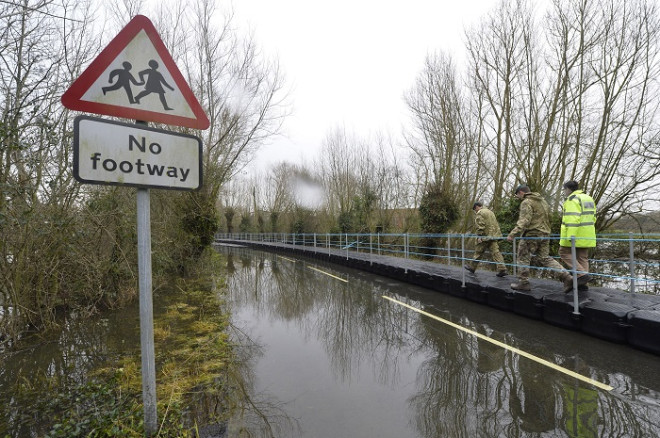 Councils will get an extra £140 million to repair potholed roads damaged by the UK's wettest winter on record.
There will be a £103.5m boost to a fund available to all councils for road repairs, announced Transport Secretary Patrick McLoughlin.
In addition, he said, a fund specially set up to tackle the damage to roads caused by the winter's storms and rainfall will be raised by £36m-£80m.
McLoughlin said: "Having the right infrastructure in place to support businesses and hardworking people is a crucial part of our long-term economic plan.
"This extra money will help make a real difference to the millions of road users and local residents who rely on local roads, giving them safer and smoother journeys."
The money will be distributed to councils by the end of the week, so that repairs can be made before the summer holidays in June.
Councils are expected to account for how the money has been spent by August.
The Local Government Association said that it will cost a total of £140m to repair potholes and other damage caused by the storms.
It takes the total budget for the Department of Transport to £1 billion for 2013-2014, and Prime Minister David Cameron said the extra money had been found through savings made elsewhere in government.
"It's because of the difficult decisions we have made on public spending that we can afford to repair roads damaged by the severe weather as part of our long-term economic plan to secure Britain's future and help hardworking people," he said.
Council chiefs said that the announcement was "good news for residents", but that the extra money may not cover the total costs of the damage, with councils already facing a funding shortfall.
"We do not yet know what the full bill for the cost of this winter's devastating floods will be, but we expect it to be more than £140m," Local Government Association environment and housing board chairman Mike Jones told the BBC.
He said that the existing cumulative £10.5 billion shortfall in funds available to councils for road repairs had been "exacerbated by adverse weather".
In February, the UK's Met Office announced that the winter had been the wettest since national records began in 1910, with 517.6mm of rain falling between 1 December and 24 February, which compares with an average winter rainfall of 330.4mm between 1981 and 2010.