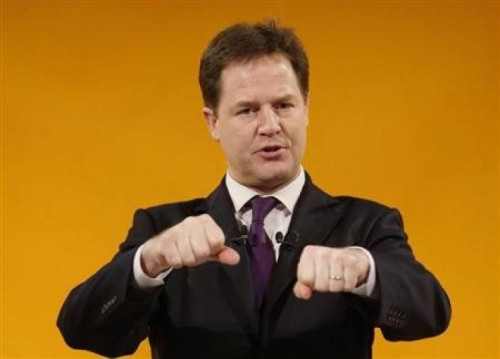 Britain's Deputy Prime Minister Nick Clegg and one of the world's most influential bankers urged Western businesses and politicians to siphon in more cash from China.
Speaking on a panel at the World Economic Forum in Davos, Switzerland, Clegg and the chief executive at Goldman Sachs, Lloyd Blankfein, both supported closer ties with the Asian country while also warning the West that they will miss out if they shy away from investment.
"There has been a complete transformation of China investment but it is still quite low," said Clegg, despite Chinese investment in the UK, in the past 18 months, equalling that of the previous 30 years.
"You have to hold these things in balance. There's no future in protectionism but there is no future not being open about where your values may conflict," he added when asked whether the UK was in danger of surrendering its sovereignty to China.
Meanwhile, banking behemoth Blankfein unveiled his vision for China's influence over the global economy.
"A lot of eyes are on China, it's a very big focus. If China continues to grow, I get more optimistic for the US," said Blankfein.
"This could be China's century, but they won't own every year. Trade is good. The Chinese are good owners, their capital is good. And their investment brings jobs."
Britain has welcomed billions of pounds worth of Chinese investment into the country over the last two years.
For example, in October 2013, Chinese investment in Manchester Airport's new business centre is tipped to create as many as 16,000 jobs in the North West of England.
Chancellor George Osborne revealed that Beijing Construction Engineering Group (BCEG) has now joined Carillion and the Greater Manchester Pension Fund in investing a combined £800m (€942m, $1.3bn) in the development of the UK's third busiest airport.
On an even larger scale, three days after the Manchester Airport announcement, Osborne unveiled the news that the UK government had given the green light to Chinese companies taking a stake in the development of the next generation of British nuclear power stations.
Britain's Chancellor George Osborne made the announcement during a trade delegation to the East Asian nation.