TheCityUK has revealed that employment in the financial and related professional services industry is at its highest level since the outset of the financial crisis in 2008.
The group said that the 2.1 million people now working in the industry across the nation are also around 80% more productive than other sectors in the UK.
According TheCityUK data, the average worker in financial and related professional services contributes £85,000 to the UK economy per year, which is nearly nearly double that of the £47,000 contributed by the average worker in other sectors.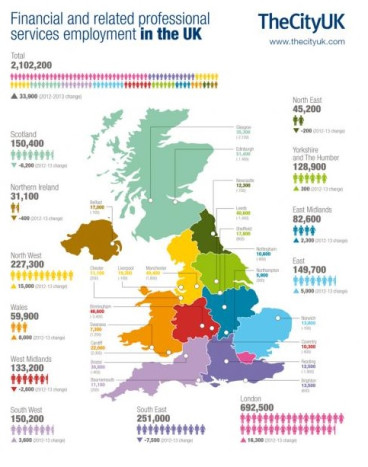 "These figures emphasise the significant contribution the financial and related professional services industry makes to the UK's economy and its central role in driving economic growth," said Chris Cummings, Chief Executive, TheCityUK.
"It is vital that the UK continues to remain an attractive destination for foreign direct investment and that its status as a leading international financial centre is maintained. Investment in infrastructure, supporting SMEs and skills training is fundamental to this.
"It is also critical to ensure the ongoing competitiveness of the UK and its ability to continue to create jobs and build a strong growing economy."
TheCityUK said that financial and related professional services workers represent 7.2% of the UK's workforce, who together contribute 12% of the UK's £1.5tn total GDP.
In 2013, almost 34,000 new jobs were created in the industry.
"More than two thirds of all employment in the industry is outside the M25. The burgeoning North West region is fast emerging a major business hub and strong regions are critical to the UK's long term economic health," said Cummings.
"Whichever party comes out on top after the General Election will face the challenge of keeping Britain globally competitive, with a strong economy that continues to deliver jobs and growth. These numbers re-emphasise the important role the financial and related professional services industry will continue to play in supporting sustained economic growth across the UK."