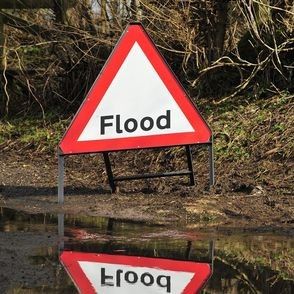 Heavy downpour continued throughout Friday night and flood alerts were issued to most parts of the UK.
The Environment Agency has issued 71 flood warnings and 165 flood alerts across England and Wales and nine flood warnings for Scotland.
The Met Office issued a red weather warning on Friday midnight for south-west Devon and east Cornwall, indicating a severe situation.
Red warning is the highest level of warning system by the Met office urging people to take action rather than just being aware of the weather warnings. While yellow warning is issued for being "aware" of the situation, an amber warning urges people to be "prepared" for any disruptions.
South West is the worst affected which received over three inches of rain overnight with rivers and streams showing signs of breaking the banks. Somerset alone received 1.6 inches (40mm) of rain fall within half an hour on Friday afternoon.
More rain is predicted for South West on Saturday and according to the forecasters Somerset and Dorset are expected to receive heavy rain.
There could be as much as 60-70mm (2.4in-2.8in) of rain in some spots on Saturday, and 20-40mm more widely in the area, the BBC reported.
Heavy rain even left the car parks of the Formula One circuit unusable. Over 20,000 ticket holders were asked to stay away from the circuit's car parks on Saturday at Silverstone, on the Northamptonshire/Buckinghamshire border where the Formula One Grand Prix qualifying sessions are being held.
"The situation is that we want to try to recover things for Sunday and that's the most important thing for us at the moment," the BBC quoted Silverstone's managing director Richard Phillips as saying.
With weather forecasters predicting continued rain for the summer, authorities are concerned about the weather situation during the Olympics.
Torrential rain delayed road and rail traffic on Friday. Public transport was disrupted in several highways resulting in road closures. M50 was one of the many highways forced to close due to the heavy rain.
Meanwhile, an online real time flood alert system was launched by a Shrewsbury-based firm Shoothill with updated data on the weather warnings from the Environment Agency.