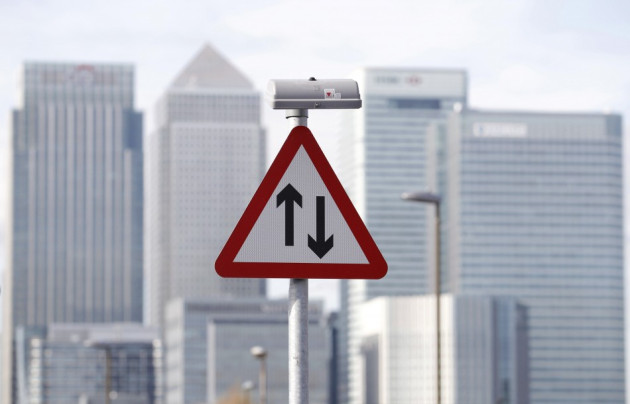 Britain's economy contracted by -0.3 percent in the final quarter of 2012, a sign that the country may be heading for a triple-dip recession if output does not pick up again in the first three months of this year.
The ONS preliminary estimate for the UK's Q4 GDP is based on 40 percent of the available data. It is designed to give an indication of output from the economy during the period, rather than a complete picture.
Year-on-year, GDP growth was flat.
"It confirms what we already knew -- that Britain, like many European countries, still faces a very difficult economic situation," the Treasury said in a statement.
"While the economy is healing, it is a difficult road."
Flat output from the service sector, which accounts for around three quarters of the economy, helped pull down the headline number.
Production industries saw their output drop by 1.8 percent in the quarter on the three months before.
"Both mining & quarrying and manufacturing made similar large negative contributions to the quarter on quarter growth rate falling by 10.2 percent and 1.5 percent respectively," said the ONS.
"The decline in mining & quarrying was due in part to an extended and later than usual maintenance period at the UK's largest North Sea oil field, which reduced oil & gas extraction in 2012 Q4."
This fall in North Sea oil extraction could have weighed on output by as much as -0.2 percent.
The construction sector, which has been in freefall since the end of 2011, actually saw output expand by 0.3 percent.
However, construction sector output plunged by 11 percent when compared with the fourth quarter of 2011.
Most economists expect a return to marginal growth through 2013, though many forecasts have been revised down amid ongoing concerns over fiscal stability in the US and an ever-present crisis in the eurozone, both adding to uncertainty over the UK economy's future prospects.
Public debt soared to an all-time high of £1.1tn in December, representing 70.7 percent of GDP.
Chancellor George Osborne has been forced to scrap his key fiscal target of bringing debt down as a portion of GDP by 2015 after a double-dip recession saw tax receipts dwindle and the government needing to borrow more in order to meet its outgoings.
Osborne is rigidly sticking to his austerity programme of public spending cuts in order to bring down the country's budget deficit.
The UK's fiscal belt tightening is expected to last until at least 2018 and by billions more than first anticipated due to an elusive economic recovery.
Hopes for a recovery lie in a series of schemes from the government and Bank of England to stimulate growth in the economy.
Treasury officials launched the UK Guarantees Scheme, worth £40bn, that sees taxpayers underwrite the finances of nationally significant shovel-reading infrastructure projects struggling to find credit.
There is also a £9bn investment in the country's rail infrastructure to upgrade lines and stations across Britain's creaking Victorian network.
Bank of England policymakers have so far pumped £375bn into their gilt-buying quantitative easing programme, with the potential for a further £50bn in the coming months.
Central bankers are, however, focusing more on their Funding for Lending Scheme, a credit easing initiative underway since June.
FLS is intended to free up affordable bank lending to the real economy of smaller businesses and individuals.
Banks are offered cheap loans, the value of which are linked to the amount they lend out to the real economy.
It is hoped an increase in the availability of affordable credit will stimulate economic growth through increased business investment in new jobs and expansion.
Critics say that a series of significant fiscal investment is needed to create more jobs and restore confidence in the UK economy.
---
Follow @shanecroucher