UK Government and Bank of England diverge on cryptocurrency threat
Carney appeared to completely contradict a report from the Treasury which said cryptocurrency is a 'low risk' issue in relation to criminality and terrorism.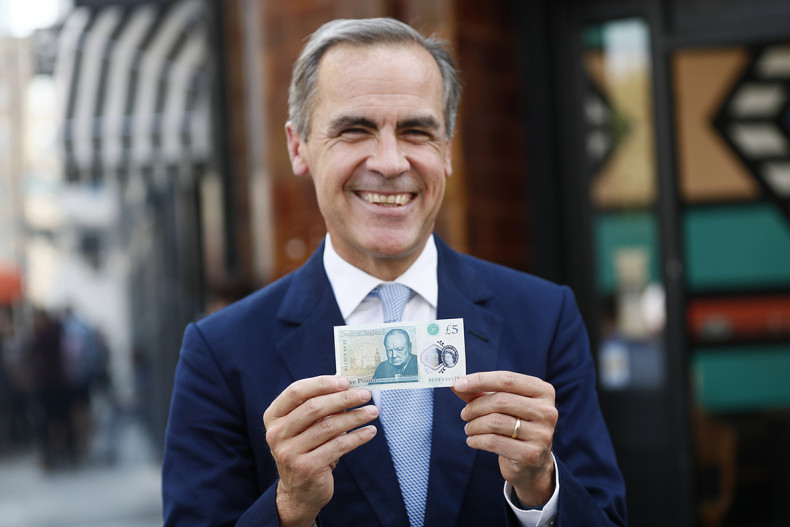 Britain's most senior banker has taken an extraordinary swipe at the cryptocurrency revolution branding the phenomenon as 'global speculative mania.'
In between name dropping US financial services firm Visa, mentioning a pub in Fulham, paying for tomes at his favourite bookshop and an apparent hankering for a good old-fashioned Friday night out; Mark Carney, the Canadian Bank of England governor, sounded his first serious warning bell against crypto.
And it would seem that following on from other countries like the US, China and Japan, the man who chairs the G20's Financial Stability Board is signalling that the time to bring it under regulation is now.
However, I wonder whether Mr Carney has perhaps missed an opportunity to woo those who've adopted bitcoin and the likes by using terms like "fool" and "mania" to describe how they choose to invest their money?
What perhaps he might have missed out on, and what those of us who work in the sector know, is that those who are invested do so because they've lost faith in archetypal retail banking in favour of peer to peer networks.
They're no longer interested in the middle man, hanging on the line waiting for a telephone banking advisor or paying out hefty fees just to access their money.
While I definitely respect and agree with Mr Carney's views on the lack of transparency in terms of the numbers of British people involved, I do wonder whether it's really a surprise that he's not a fan of crypto.
After all, when Satoshi Nakamoto inscribed bitcoin's genesis blockchain he made it clear he was no fan of traditional banking either.
The message inscribed for posterity read: "The Times 03/Jan/2009 Chancellor on brink of second bailout for banks" and is in no uncertain terms a very clear and frank swipe at fractional reserve banking which left many ordinary people reeling thanks to the global financial crash.
Nine years later and while the world is certainly a different place; it is one where finance is starting to become exciting for Joe Public again and where there's more choice than ever before.
Former Goldman Sachs banker Mr Carney most definitely nailed it when he said that blockchain technology is worth getting excited about.
But his criticism of cryptocurrency did have shades of circa 1995.
More than two decades ago the internet was being described as something that was "never going to catch on" with experts predicting that "it will soon go spectacularly supernova and in 1996 catastrophically collapse."
Mr Carney's comments today echoed those sentiments and I wonder whether in a couple of decades time whether he might be forced to reconsider those views.
He is right in his assessment that the market is tiny and that it poses no current risk to the financial stability of the United Kingdom.
But what I do believe he's missed out on is that cryptocurrency is an opportunity and gives people choice, its many facets haven't even been dreamed about yet.
What is known is that while banks are making people redundant and closing branches up and down the country, the fintech sector is flourishing and that's something we should celebrate.
Like anything in its infancy, it will take time to grow, refine and develop.
I do think that Mr Carney's decision to lash out at purchasers of bitcoin and other cryptocurrencies was questionable and might well be out of touch, especially with young people.
His insistence that he would support regulation in a bid to protect the British pound from a deflationary bias could also do with a little more explaining.
Finally he appeared to completely contradict a report from the UK Treasury led by Chancellor Phillip Hammond which insisted that cryptocurrency is very much a "low risk" issue in relation to criminality and terrorism.
He said: "On the downside, at present, crypto-assets raise a host of issues around consumer and investor protection, market integrity, money laundering, terrorism financing, tax evasion, and the circumvention of capital controls and international sanctions."
To point the finger at cryptocurrency in respect of criminality was a little questionable especially after the Treasury announced the risks posed by traditional finance dwarf it.
Indeed in December 2017 their report read: "High-end money laundering and cash-based money laundering remain the greatest areas of money laundering risk to the UK. New typologies continue to emerge, including risks of money laundering through capital markets and increasing exploitation of technology, though these appear less prevalent than longstanding and well-known risks."
There is no question that regulation for crypto is just around the corner but what's also exciting is the amount of business, jobs and ideas that are being created in the space.
While Mr Carney's comments are certainly of interest, the devil of course will be in the detail and all eyes will be on the G20 in Argentina as a global consensus is hopefully sought on the way forward for our new, flourishing and exciting industry.
David Merry is the CEO and Chairman of Investoo Group, one of the world's leading cryptocurrency, FX, shares and derivative trading education firms. Investoo Group operates more than 20 global brands, including brokerage firm Cryptogo.com and industry specific news websites; including Coinlist.me and German language site Bitcoinmag.de.