UK government launches probe into BBC cameraman incident outside Jeremy Corbyn's home
The Department for Transport has launched an investigation after a BBC cameraman was reportedly taken to hospital following an incident outside of Jeremy Corbyn's home on the night of 15 September. Footage has emerged of the new Labour leader making his way to a waiting car before the camera seems to hit the floor and a voice is heard claiming "you've smashed my camera".
Michael Crick, the veteran Channel 4 News journalist, claimed a Corbyn aide had "allegedly assaulted" the BBC cameraman, who was later apparently seen wearing a "neck brace" in hospital. The episode comes after a number of run-ins between Corbyn and the media.
But a Labour source claimed to IBTimes UK that the incident involved a government car service driver. A spokesperson for the Department for Transport said: 'We are investigating media reports of an incident yesterday involving a government car service vehicle. We are looking at whether the driver was involved and the extent and nature of that involvement."
"The BBC can confirm there was an incident involving a BBC cameraman whilst filming Jeremy Corbyn leaving his home yesterday," a BBC spokesperson told IBTimes UK. "He sustained some injuries for which he's received treatment. The BBC has spoken to the Labour Party which has confirmed the incident involved a government driver, not a Labour Party member of staff."
Elsewhere, a spokeswoman for the Metropolitan Police told IBTimes UK that it had not received any reports of the alleged attack.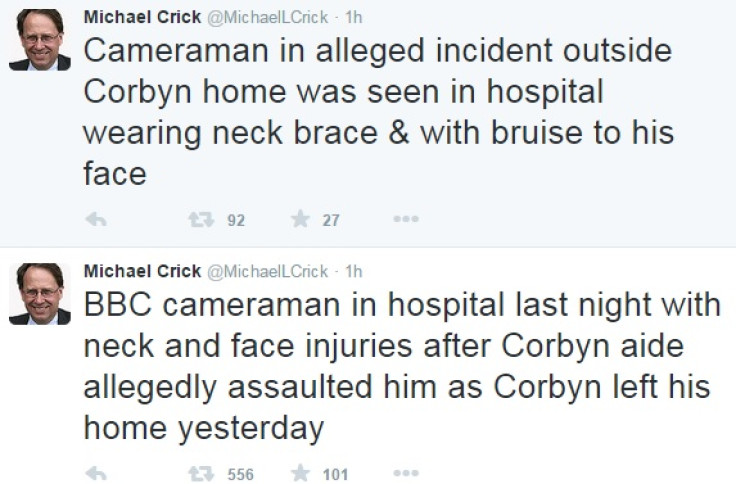 The news come ahead of Corbyn's debut as Labour leader at Prime Minister's Question (PMQs) at 12pm BST. The left-winger will go head-to-head with David Cameron after facing criticism for not singing the national anthem at the Battle of Britain commemoration service at St Paul's Cathedral on 15 September. Labour has defended its new leader and claimed he stood in "respectful silence" during the rendition of God Save The Queen.
© Copyright IBTimes 2023. All rights reserved.