The UK government will pay for Northern Irish women's abortions if they travel to England
Women won't be charged after arriving from Northern Ireland, where abortion is illegal in most cases.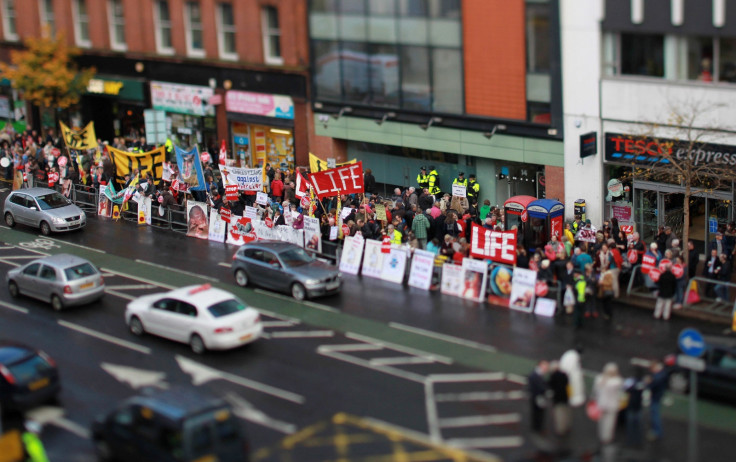 The government has announced that women travelling from Northern Ireland to England in order to receive an abortion will no longer have to pay for the treatment.
Speaking in the House of Commons, Chancellor Phillip Hammond said the government will now fund abortions in England for those arriving from the country, where they are illegal in most cases. Northern Ireland only allows abortions if the woman's life is in danger or there is risk or permanent mental or physical damage.
The decision arrived as Labour MP Stella Creasy attempted to force an amendment to the Queen's Speech to allow women free abortions if they arrive from Northern Ireland. Creasy said women are currently charged as much as £1,400 for the procedure.
The move was later confirmed in a letter to MPs from the women and equalities minister, Justine Greening.
Hammond said: "I know this is a matter of great importance to members on both sides of the House and an issue which I know my colleagues on the Treasury bench have been looking for a solution to.
"My understanding is that my Right Honourable Friend the minister for women and equalities either has or is about to make an announcement by way of a letter to members of this House explaining that she intends to intervene to fund abortions in England for women arriving here from Northern Ireland, and I hope the House will find that a sensible way of dealing with this challenge."
Following the announcement, Creasy wrote on Twitter: "Thank you to MPs on all sides who supported call for change to help Northern Irish women have equal access to abortion."
The minority Conservative government was under pressure to ensure free abortions for Northern Irish women since it entered into a "confidence and supply agreement" with Northern Ireland's DUP party, which largely opposes abortion.
Prior to the announcement, Commons leader Andrea Leadsom said the Equalities Department and the Department of Health were "discussing and looking very closely" at the number of women arriving from Northern Ireland for an abortion.
"Any action on the situation facing women seeking abortion in Northern Ireland is both welcome and long overdue," said a spokesperson for Marie Stopes UK, a contraception and abortion charity.
"As UK taxpayers, women in Northern Ireland should be fully entitled to access NHS treatment free at the point of care, including abortion services.
"This is a hugely positive step forward, but there is no reason why these services shouldn't be provided in Northern Ireland, saving thousands of women each year the cost and stress of travelling to the mainland.
"Until that becomes reality, we look forward to working closely with government to ensure women travelling from Northern Ireland receive the equitable NHS treatment they deserve."
© Copyright IBTimes 2023. All rights reserved.