Rocketing house prices have become the biggest threat to the UK economy as the average cost of a home has risen faster than people's incomes, potentially leading to mountains of debt, warned Bank of England deputy governor Sir Jon Cunliffe.
Speaking on BBC Radio 5 Live, Cunliffe said "it's not the risk around house prices as such, it's the risk that we get a sustained rise in house prices - and this is very important - (the risk of) house prices rising faster than people's incomes".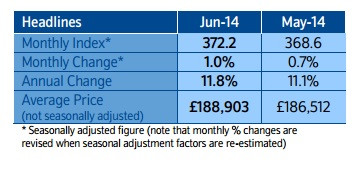 "That leads to the sustained increase, a big increase in the amount of debt in the economy, in the amount of debt that mortgage holders have."
Nationwide data has revealed that UK house prices have soared by the fastest rate in nine years bringing the average cost of a home to above 2007 peak levels.
House prices across Britain for June now average £188,903 (€236,951, $324,116), while in London the average cost is now £400,000.
The group said that average UK house prices have recorded their 14th consecutive monthly rise, up 1% on May's value. Year-on-year, house prices have risen by 11.8%, up from the annual increase recorded for May of 11.1%.
While house prices across Britain continue to rise, the Bank of England (BoE) has tried to curb the amount of money being loaned out.
BoE said it will enforce a loan-to-income cap as a safety barrier from October.
This cap means that only 15% of a bank's new net mortgage lending can be made up of loans worth more than 4.5 times a borrower's income.
Elsewhere the Financial Conduct Authority (FCA) is already forcing lenders to apply stricter affordability tests on potential borrowers, to ensure they would be able to make repayments in a number of different scenarios, such as higher interest rates.