UK House Prices Soar by Fastest Pace in Nine Years as Average London Home Costs £400,000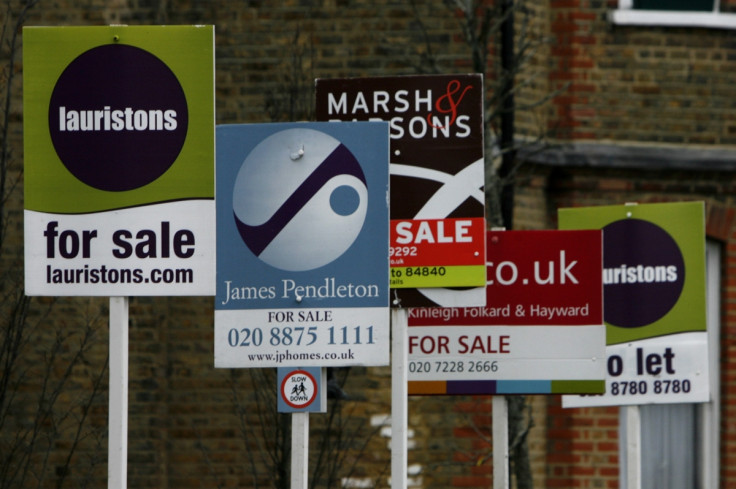 UK house prices have soared by the fastest rate in nine years bringing the average cost of a home to above 2007 peak levels.
According to Nationwide's monthly survey of the sector, house prices across Britain for June now average £188,903 (€236,951, $324,116), while in London the average cost is now £400,000 [Figure 1].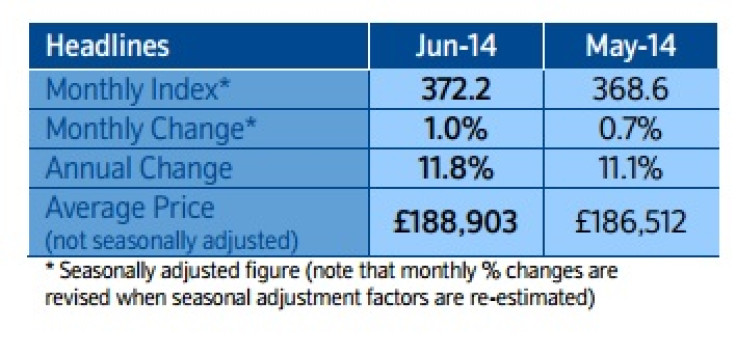 Nationwide
"While all regions recorded annual price gains for the fourth quarter in a row, there is still significant variation across the UK, with the South of England continuing to record the strongest rates of growth," said Robert Gardner, chief economist at Nationwide."
"In particular, London continued to outperform, with prices up by almost 26% in Q2 compared to the same period in 2013."
"The price of a typical property in London reached the £400,000 mark for the first time, with prices in the capital now around 30% above their 2007 highs and more than twice the level prevailing in the rest of the UK when London is excluded.
"In the UK as a whole, prices are less than 1% above their pre-crisis peak. Excluding London they are 0.4% below peak."
The group said that average UK house prices have recorded their 14th consecutive monthly rise, up 1% on May's value. Year-on-year, house prices have risen by 11.8%, up from the annual increase recorded for May of 11.1%.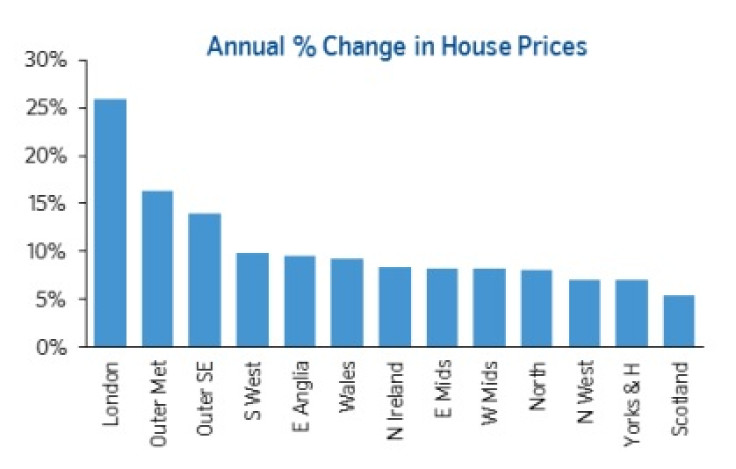 Nationwide
Will House Price Rises Stop Soon?
While house prices across Britain continue to rise, the Bank of England (BoE) has tried to curb the amount of money being lent for people buying a home.
According to BoE data, mortgage approvals have slumped to an 11 month low in the UK, easing concerns over the country's rampant house price growth.
The central bank said there were 61,707 mortgage approvals in May 2014, down from April's 62,806 and the lowest since June 2013.
BoE said it will enforce a loan-to-income cap as a safety barrier from October.
This cap means that only 15% of a bank's new net mortgage lending can be made up of loans worth more than 4.5 times a borrower's income.
This will affect few borrowers in the current situation, with most of the high loan-to-income mortgages isolated in the upper end of the runaway London property market. The aim is to prevent lenders moving into riskier areas of lending.
Two of the UK's largest mortgage lenders, Lloyds and RBS, have already self-imposed mortgage caps. Both will only lend four times an applicant's income on mortgages of over £500,000.
And industry regulator the Financial Conduct Authority (FCA) is already forcing lenders to apply stricter affordability tests on potential borrowers, to ensure they would be able to make repayments in a number of different scenarios, such as higher interest rates.
However, Nationwide said that the new stress tests are "unlikely to have a significant impact" on transactions or growth in the near term.
© Copyright IBTimes 2023. All rights reserved.