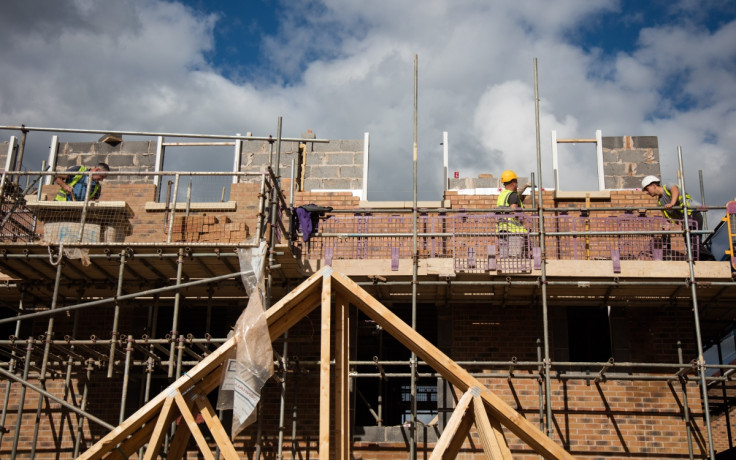 Despite a protracted housing shortage in the country, healthy demand for property, and government attention focused on supporting the construction of more homes, the share prices of some of the biggest housebuilders on the FTSE have been falling since the beginning of 2016.
Of the 10 largest housebuilders by completions listed on the London Stock Exchange, seven have seen their share prices fall since markets opened for the new year. At the time of writing, Barratt Developments was down 8.23%, Taylor Wimpey -5.42%, Bellway -7.93%, Redrow -13%, Bovis Homes -7.44%, Berkeley Group -10.3%, and Galliford Try -5.26%. Only three were up: Persimmon by 4.54%, Crest Nicholson 1.44% and Countryside Properties 3.66%.
This follows a long period of soaring share prices as analyst after analyst tipped the residential construction sector to keep on growing. And there were some robust financial results from the sector. Barratt reported a 40% jump in pre-tax profit during the half-year to the end of 2015. Bovis profits for the whole of 2015 lifted 20%. There is also plenty of room for builders to grow. There were 142,890 housing completions in England during the 12 months to December 2015, a 21% annual increase. This is nowhere near enough; some estimates put new housing demand at around 300,000 units a year. Yet British housebuilders' share prices are falling.
There are several black clouds hanging over the British economy, but none larger than the European Union (EU) referendum on 23 June. Voters will decide on a Brexit — a potential British exit from the 28-member single market in which goods, capital and people flow freely between states. No state has left the EU before, meaning a Brexit would be unprecedented. Now that crunch referendum is nearing and some investors are cashing in their recent gains for fear of what may come.
"As we get closer to the Brexit vote, the shares could find themselves under pressure simply from the resulting uncertainty," said Mike van Dulken, head of research at Accendo Markets. "There is much talk about the UK being better outside the EU but how can we be so sure now that the EU exists. A return to the good old times isn't a simple assumption. What could it mean for European money wanting to invest in UK property? How might investors from outside Europe treat the UK if it left the club?
"So many unknowns and what is sure to be a very close-to-call result running right down to the wire, much like the Scottish referendum did back in 2014. A resulting weaker GBP may be providing a boost to outside buyers for the moment, but if the future is too murky the currency benefit may not be enough of an attraction."
Construction skills gap
One particularly serious issue for housebuilders is an ongoing labour shortage, which is driving up wage costs and stalling work. According to the Construction Industry Training Board (CITB), the UK needs an extra 80,000 construction workers in 2016 alone. Skills have been lost in the sector as fewer young people replace those who left the sector either through retirement or in search of other work after the construction collapsed in the wake of the financial crisis.
Many migrants work in the British construction industry, helping to plug the skills gap. Closing the door to the EU, and introducing new restrictions on migration from the continent, poses a labour risk for housebuilders, something playing on investors' minds.
"Low mortgage rates and a generally healthy economy means the demand is still there for housing and the government appears supportive of the industry," said Jasper Lawler, an analyst at CMC Markets, in a note at the end of February. "The concern is that with unemployment at multi-year lows and skills shortages unlikely to be plugged quickly unless by immigration, the ability of housebuilders to build the houses required could be constrained and limit earnings growth."
Affordability
House prices have risen sharply in recent years. Demand is powered by a recovering economy, the Bank of England holding down interest rates, and government schemes to support first-time buyers onto the market, such as Help to Buy and shared ownership.
Moreover, the government is freeing up more public land for development, and also trying to liberalise the country's notoriously strict planning laws. Supply, however, has still not caught up with demand. The Office for National Statistics (ONS) said the average UK house price was £292,000 in January 2016, up 58% over a decade. Much of this growth is from London, whose average price has rocketed by 104% to £551,000 over the same period.
Data from Nationwide, a building society, shows just how far prices have run from earnings for first-time buyers. In the final quarter of 1995, the average UK house price was 2.1 times their earnings. By the final quarter of 2015, this was 5.2. Over the same time in London, that ratio rose from 2.7 to 10.1. Now affordability issues are threatening demand. Some aspiring homeowners are simply priced out of the market altogether.
On top of the referendum and the labour crisis, this may also make investors in housebuilders think twice about the future. But for those optimistic that Britain will vote to stay in the EU, falling share prices are an opportunity to gamble — pick housebuilder stocks up cheap now and watch them soar again on 24 June.