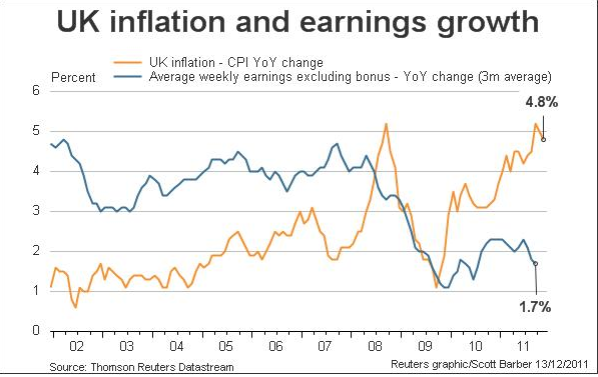 Inflation has fallen from the 5.2 per cent mark in October to 4.8 per cent last month, bringing a welcome respite to the Bank of England.
Britain suffered from an alarming rise in the CPI in October, due to higher oil prices, causing a rise in energy costs, as well as rise in the VAT to 20 per cent in January.
But the small drop won't come as much relief to families up and down the country who are still feeling the squeeze having seen average weekly wages fall below inflation.
Executive Director of Monetary policy at the Bank of England, said in a speech to Bloomberg today: "CPI inflation over the past year was significantly higher than we had expected. And with modest earnings growth, these price increases detracted directly from households' purchasing power, and the impact on the high street was plain to see."
He added: "The weakness in consumption adds weight to the argument that not all of our disappointing growth performance can be laid at the door of the euro crisis. But neither does it imply that it stems from domestic headwinds. Rather, much of the weakness can be related to the unavoidable fall in our real living standards as the cost of energy and other goods and services we import from abroad rose in price."
The figures, released by the Office of National Statistics, also suggest that RPI has also fallen from 5.4 per cent to 5.2. "The largest downward pressure came from food, petrol, furniture and clothing," according to the report.